The robbed continent
Researchers are developing guidelines for managing looted art from colonial Africa
Freiburg, Feb 20, 2019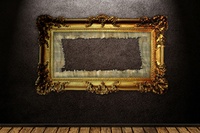 In France and Germany a debate is brewing about restitution, the return of art and cult objects stolen or illegally acquired during colonial times. A workshop at the Maria Sibylla Merian Institute for Advanced Studies in Africa (MIASA) in Accra, Ghana, augments the debate here with something it has lacked up to now: the African perspective.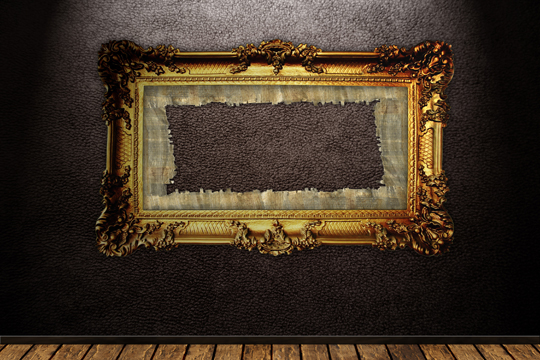 "The fact that objects are being returned does not necessarily mean that they will never be seen in Europe again," says Andreas Mehler. Photo: studioDG/stock.adobe.com
In November 2018, French President Emmanuel Macron received a dossier on restitution that he had commissioned. The report by the French art history professor Bénédicte Savoy and the Senegalese economics professor Felwine Sarr triggered an intense debate: "90 to 95 percent of the material African cultural heritage is located outside the African continent," claim Savoy and Sarr and want to ring in "a new ethic of relations." Macron listened to his advisors and announced that he would return 26 art objects to the West African state of Benin; some dealers, collectors, and museum directors were angry about it, even in Germany. A workshop at MIASA in Ghana augments the debate in Germany with something it has been missing so far - the African perspective. Dr. Wazi Apoh, archaeologist at the University of Ghana, prepared the meeting and gathered participants from Benin, Ghana, Cameroon, Nigeria, Namibia, Germany, Great Britain and Switzerland in Accra.
"Unfortunately, the African perspective is now filled with a great deal of mistrust," reports Prof. Dr. Andreas Mehler, who took part in the workshop. Mehler is director of the Arnold Bergstraesser Institute (ABI), which coordinates MIASA in Ghana together with the Freiburg Institute for Advanced Studies (FRIAS). "I was quite astounded at how clearly this came up," said Mehler, who certainly understands this attitude. "Even today, African museum managers keep hearing from their German counterparts that it might not be possible to return the objects so quickly after all." They claim to require an overview first, which costs money and, above all, time. "If the aim is to return the items within ten years, it is understandable that people in Africa view it as a stalling tactic."

Doing the research instead of blindly trusting others
One of the demands made in Accra was for transparency. It is important that African researchers have unhindered access to all museums and institutes that house African objects. This is the only way they can get a picture for themselves instead of having to blindly trust the information provided by their European partners. Mehler recommends that such wishes be taken seriously. "We should seize the opportunity. We must strengthen trust, if not establish it in the first place."
 Even if Macron made restitution an executive matter, Mehler sees that the issue is not taken very seriously in the West: "We consider negotiations and agreements on migration or on economic cooperation more important." The Freiburg political scientist sees things differently, however. "If we manage to work well together in this area, it will have a positive effect on our relationship with Africa as a whole." The resulting trust would ultimately also help to solve other common problems and questions: "What we develop together on restitution can serve as a model for other issues."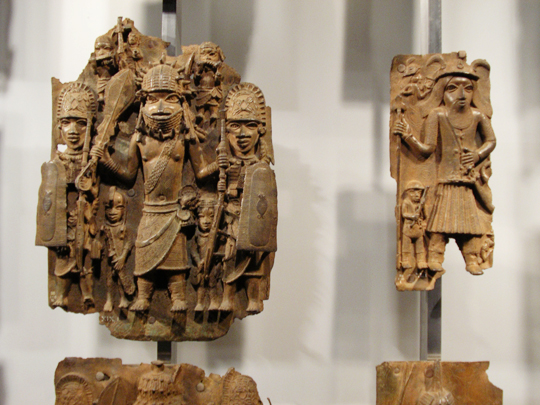 The British Museum in London has 700 bronze statues from Benin on exhibit – they were stolen from the African kingdom in 1897, together with many other art objects. Photo: Wikimedia Commons
Mehler knows it won't be easy as he refers to an African object located in Baden-Württemberg: Until March 2019, a New Testament, written in the African language Nama, will be stored in the Linden Museum in Stuttgart. The Bible belonged to Hendrik Witbooi, a leader of the Nama and fighter against the German colonizers – and, together with one of his whips, was probably stolen in 1893. The negotiations about the restitution have been a long and painful process for both sides - full of pitfalls from which, however, future lessons can be learned.

Communiqué sets guidelines
The workshop participants outlined in a communiqué what best practice cases could look like: First, all partners involved should clarify early on what exactly is the subject of the discussions - and what is not. Then they should find out whether there are demands that are mutually exclusive and jointly define the maximum period of time needed to fully determine the object's origin. And last but not least: define a joint exhibition practice. "The fact that objects are returned does not necessarily mean that they will never be seen again in Europe," explains Mehler.
The current debates in Germany and France were perceived positively in Accra. However, Mehler reports that it was put into question why the former colonial powers of England and Belgium did not respond. At the same time, the African partners were held to account: they, too, were desired to show more commitment - for example from a supranational organization such as the African Union. The colonial powers often drew borders arbitrarily and thereby cut up areas in which an ethnic group lived. It is therefore unclear whether the governments of today's African states even have the legitimacy to reclaim an object for certain communities.
Many steps still have to follow, but Andreas Mehler draws a positive conclusion: "For a long time Africa simply rubber-stamped whatever came from Europe. It's a step forward that we can now also hear self-confident voices. They create a balance and make common solutions possible. And these are precisely the goals we are pursuing at MIASA."

Mathias Heybrock
Andreas Mehler and Wazi Apoh about looted art 

Interview with Andreas Mehler about the Maria Sibylla Merian Institute for Advanced Studies in Africa