Seaside Sounds
A conversation with musicologist Konrad Küster about the relationship between the history of the organ, global warming, and climate policy
Freiburg, Jul 10, 2019
Photo: Fotolyse_stock.adobe.com
Prof. Dr. Konrad Küster explains why the absence of cultural history is a threat to climate conservation and vice-versa. For a quarter of a century, the University of Freiburg musicologist has been researching the organs located in an area of the North Sea coast that stretches from southern Denmark to the northern Netherlands. As he works, he wonders what will happen to these instruments so rich in tradition if climate change causes the churches to be flooded. Dietrich Roeschmann spoke with Küster about the social function of church organs and protecting sites significant to the history of music.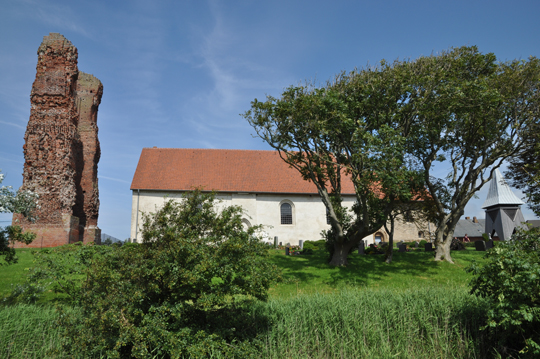 People in coastal communities located churches with organs on the highest point in the landscape. But rising sea levels could nevertheless now become a threat for them. Photo: Fotolyse/stock.adobe.com
Mr. Küster, you're a musicologist who is investigating climate change. What do the topics have to do with each other?
Konrad Küster: A great deal. Climate change is causing sea levels to rise and threaten the existence of cultural regions that have developed over centuries. I wrote my post-doctoral thesis on Venetian music. Venice without the sea would be inconceivable. The same is true for the wetlands on the North Sea coast, where I've been researching organs and their surroundings, the organ landscape, from southern Denmark to the northern Netherlands. Today these areas are struggling economically, though they were very affluent at one time. People there were left to their own devices. When you study music history in the region, you see the consequences. There's hardly any sheet music – the material you first think of when you think of music.
Why not?
First of all, there are hardly any written sources available for the time when the organ landscape on the North Sea developed. What you can learn about them comes from outsiders' accounts or chronicles. Almost always, the organists improvised their music. They did not follow written scores as they played.
How can something like a soundscape for the North Sea coast develop from that?
You need to discover the function music had in people's lives. What's becoming increasingly clear is that starting in the early 16th century; the organ was actually the crown jewel of this landscape. Like their Swiss counterparts, the Friesians never had a master ruling over them. What they did have was fertile soil, which they used to produce dairy products, beef, and grain. The Friesians marketed these commodities in the growing cities. They in turn experienced impressive organs there. So they decided they wanted the same thing, and starting around 1450 every village began to get its very own organ.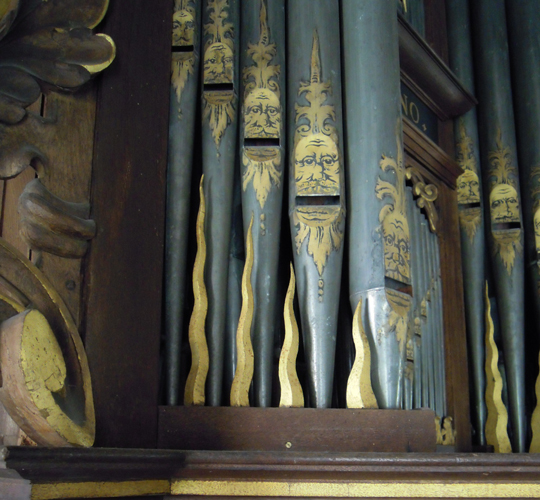 Starting from about 1450, every village had its organ – establishing an advanced musical culture for everyone. Photo: Konrad Küster
What were the consequences?
Within a few decades, a type of advanced musical culture developed there in which everyone took part – including maids and servants to some extent. The effects of that socio-cultural model can still be seen today. When it comes to questions of combating climate change, people cannot think that it would do to save a few organs from this region, which is so musically significant. That's not it. Here it's about the entire socio-cultural context. We presented this in a touring exhibition that has been moving right around the edges of the Wadden Sea World Natural Heritage Site since 2013. It is still touring the north and has already been shown in more than 55 places.
There is evidence of more than 150 organs in the coastal villages on the North Sea and in the adjacent surroundings for the period up to 1590.
Yes, you might find this unbelievable wealth surprising. But you can't forget, a painting for an altar may cost a lot of money. An organ isn't just expensive. It also needs continual maintenance. It must be tuned and cared for. The organist and the bellows operator – the calcant – had to be paid. Putting an organ in a church was always an expensive, consequential proposition, especially because people knew how unpredictable the sea could be.
How did they handle this threat?
They built dikes and located churches with organs on the highest points around. Because of that, many survived storm surges during local natural disasters that cost thousands of lives. We even know of extreme cases in which settlements had to be abandoned. Survivors took with them each beam and stone – the altar, the bells, the organ – and rebuilt them elsewhere. Today it's called relocation. Luckily, those were only isolated cases. In principle, all the risks were taken into account. That's why today, the world's oldest organ landscape is located there.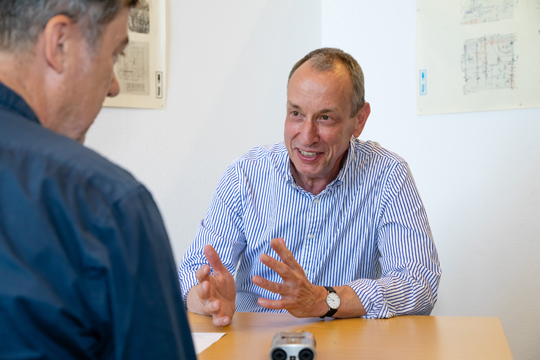 Konrad Küster says policy-makers and every single person must act sustainably to counteract the loss of entire segments of culture. Photo: Ingeborg Lehmann
And now rising sea levels threaten it. The prognosis is conceivably unfavorable. After all, a third of the Netherlands is below sea level and large areas of the northern German wetlands are only just a few centimeters above it. What can be done?
The effects of climate change are being felt. We need to recognize that for these areas, the same is as true as it is for Venice, the jazz city, New Orleans, the Maldives, and the polar bears. We must urgently change our behavior to counteract this. Policy-makers need to change and act cleverly and sustainably as well to oppose the risk of loss of entire segments of our culture. Two things certainly will not work: neither moving – relocation – of all the rich cultural heritage near the coast to a safer place inland, nor rebuilding a broken world with outside help, as happened after wars. Because this time there's no outside. We're all in the same boat with respect to climate change. That's why we should do everything possible not to exceed the 1.5 degrees Celsius mark for global warming.
What would be the consequences for music of failing to achieve this climate target?
Not just music, but the preservation of cultural heritage would be seriously damaged in addition to the very real danger floods pose to historical buildings such as churches or performance venues near the coast. The more money that has to be dedicated to coping with climate change the less likely it is to make its way into cultural preservation. The long and short of it is that we will lose the opportunity to relax into the unique and varied imaginative spaces of music, art, and literature to free our minds and soothe our souls.
What do you tell your students?
I try to teach them that musicology doesn't take place in some ivory tower. Instead, it has its place in the world. Cultural history can also produce a critical mass for climate conservation in that it can show what will be lost forever if we fail to act. Musicology can contribute to that in an exceptionally concrete way. The association "Scientists for Future" is an organization of scientists and researchers and it's created a new exchange between specialist disciplines. This is what we have to rely on with respect to the cultural consequences of climate change. It shapes a new give and take in the debate, allowing positions that would otherwise be represented individually to be set on a much broader base.