Humans and Hedgehogs
Sharing a neighborhood with feathery or furry critters isn't always an idyllic fairy-tale – Fanny Betge would like to improve awareness of how to coexist correctly with wildlife living nearby
Freiburg, Apr 15, 2020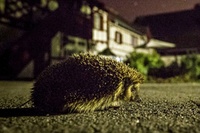 Photo: Anna-Lena Hendel
Lots of hiding places, plenty of food, and few foes – cities and towns offer adaptable wildlife ideal habitats to retreat to. Within the project "Wildlife in Settled Areas of Baden-Württemberg," Fanny Betge is working to help people manage wildlife within their midst successfully. In conjunction with the fiftieth anniversary of the founding of the Faculty of Environment and Natural Resources (UNR), a series of articles is being published on a range of its research projects and areas of study. The second instalment – "Animals" is dedicated to investigating ways to raise public awareness of the correct ways to deal with wildlife.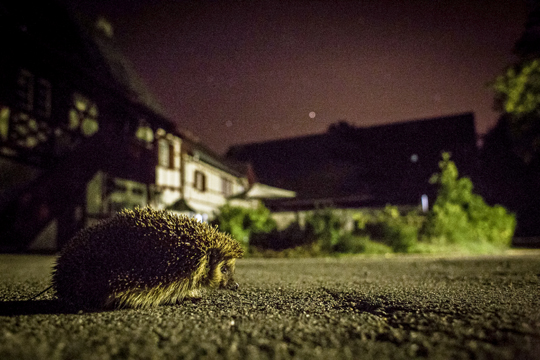 Hedgehogs are already a familiar sight: people and wild animals often meet in settled areas. Photo: Anna-Lena Hendel
People and wild animals often run into each other in settled areas. Wild boars root in flower beds. Foxes frolic on playgrounds. Fanny Betge has been investigating which animals live in Baden-Württemberg's cities and towns, when conflicts arise, and what is done in these situations. The research assistant at the Chair of Wildlife Ecology and Management has been cooperating with her colleague Geva Peerenboom under the auspices of the project "Wildlife in Settled Areas of Baden-Württemberg." Funded by the state's Ministry for Rural Areas and Consumer Protection ("Ministerium für Ländlichen Raum und Verbraucherschutz") from hunting license fees, the project has been ongoing since 2010. Until 2017, Betge and Peerenboom worked together with researchers from the Chair of Forest and Environmental Policy of the UNR. They have been cooperating since 2017 with the Swiss association called StadtNatur.
Betge explains, "We expect that favorable local living conditions will lead to more wildlife in populated areas, meaning contacts and the potential for conflict will increase. That's why we've developed guidelines for wildlife management together with the county of Waldshut and the municipality of Freiburg for the populated area. We've also created an online platform to inform people about how to properly interact with wildlife. We are actually including them actively in our work as what's known as 'Citizen Science.'"
Developing a data base
At the start of the project, the team faced the challenge of collating information and the need to define areas of responsibility. That's because wildlife living in the state's settled areas had neither been systematically inventoried nor was it clear to whom the public could turn if they had questions or conflicts with wildlife. Betge, who has been involved in the project since 2015, says, "Among those we asked were municipal administrators, hunters, and animal conservationists. Based on their responses, we developed an online survey for municipal officials, fire departments, police, and forestry and veterinary authorities because they are often contacted in such cases." The multi-staged project plan additionally included reading print and online media for information and reports about wildlife as well as preparing case studies, for which the team also consulted wildlife management experts in other German and Swiss cities. What is more, they organized several workshops and invited contacts and partners with practical experience in order to cooperate in working out strategies for resolving conflicts. A telephone survey of residents ensured that their viewpoints were also included in the research.
This showed that the further wildlife came into settled areas, the more critically people viewed their encounters. "Tensions developed when, on the one hand, costly, material damage occurred – such as chewed cables in cars; and on the other, due to concerns about communicable diseases and parasites, such as a type of tapeworm, Echinococcus multilocularis," explains Betge. She noted that some of the problems are structural, "Most people don't know how to behave if there's a conflict. They can't find the right contact right away when there's a raccoon making mischief in their attic."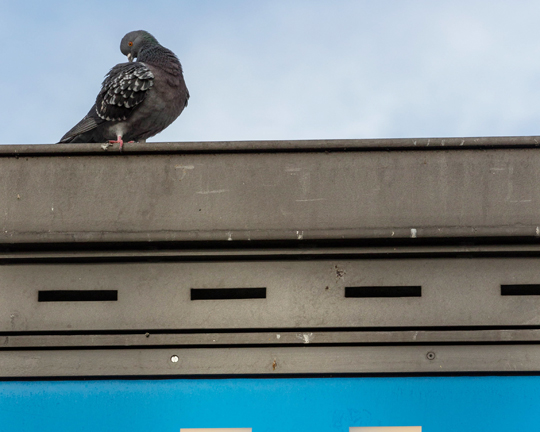 Information from the population: Photos of sighted animals can be uploaded on the website or app. Photo: Anna-Lena Hendel


Sharing knowledge online and in print
The project is closing this knowledge gap with the internet platform "Wildtiere in der Stadt" (Wildlife in the City). In addition to contact information for the wildlife authorities of the state of Baden-Württemberg, since 2016, here visitors can discover interesting information about urban habitats and portraits of mammals, birds, reptiles, and amphibians that are frequently found in populated areas. It includes images of beavers, northern goshawks (Accipiter gentilis), and the grass snake, Natrix natrix. Based on research results from the county of Waldshut and the municipality of Freiburg, the team has also written guidelines for wildlife management. In these the researchers explain, for example, the legal aspects of the situation.

They also name contacts and give tips on the best ways to keep wildlife off of property. Among these are waiting until trash collection day to put the garbage out, keeping compost heaps closed, and ensuring fences extend some distance into the ground. Betge continues, "Integrated in the guidelines as well are instructions telling you what to do if you find a wounded animal." That people are paying attention to these recommendations state-wide shows how important an issue the topic is, she says. At the same time, the researcher from Freiburg emphasizes, "Because the responsibilities are regulated differently from region to region, the procedures we describe cannot be applied one-to-one in other counties. But our guidelines can serve as a means of orientation." They are included along with the rest of the research results in the "Handbuch zum Wildtiermanagement im Siedlungsraum" ("Handbook on Wildlife Management in Settled Areas"), which will be made available to all the communities and counties in Baden-Württemberg as an application-oriented final project report.
Digitally recording "wild neighbors"
Betge says that although many wild animals live in settled areas, the population has lost their access to them. In order to improve understanding of the animals, the website "Wilde Nachbarn Baden-Württemberg" ("Wild Neighbors Baden Württemberg") went online in 2018. It invites anyone who sees a wild animal to photograph it and upload the image to the platform – either directly via the website or using the accompanying wildlife app. Until mid-March this year, more than 800 images had been submitted, primarily of foxes, birds, waterfowl, hedgehogs, squirrels, and deer. "Wild animals frequently live on private property," explains Betge. "In cases like this, we need to depend on information from residents for our work. Furthermore, thanks to their support we have been able to collect significantly more data about larger areas and for longer periods than we would've been able to on our own."
Kristin Schwarz
Wildtiere in der Stadt ("Wildlife in the City")
Wilde Nachbarn Baden-Württemberg ("Wild Neighbors Baden Württemberg")
First article in the series: Volcano in the Lab