Control Instead of Catastrophe
There were devastating fires in every corner of the world in 2018 – Johann Georg Goldammer advises politicians worldwide on fire management
Freiburg, Jan 25, 2019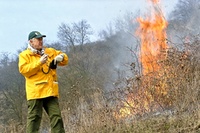 Fire ecology is still a young discipline, but it's already causing a stir: the Global Fire Monitoring Center (GFMC) – a branch of the Mainz Max Planck Institute of Chemistry at the University of Freiburg – advises politicians on the prevention of landscape fires and how to cope with such disasters. Prof. Dr. Johann Georg Goldammer heads the institution which is unique in the world. Since 2018, on behalf of the Greek government, he and his team have been developing a fire prevention concept for Greece. Hans-Dieter Fronz spoke with the expert about his work and current threats – including those in Germany.
Controlled fire: Johann Georg Goldammer conducting an experiment in the Middle Rhine region. Photo: GFMC
Mr Goldammer, were you professionally involved with the devastating fires of last summer in Sweden, Greece or California?
Georg Goldammer: After the fires in the summer, the Greek government engaged me to establish a national commission, in order to develop a pioneering strategy for what we call "fire management at a landscape level". It was an expression of great trust. We've already undertaken similar tasks in other countries. Last fall we involved state agencies in Greece with surveys and interviews. In December 2018 I convened a round table in Athens, which involved all the authorities and representatives of civil society. Our report to the Greek parliament has now been completed. I will present it to Prime Minister Alexis Tsipras and Speaker of the Parliament Nikolaos Voutsis in Athens in the first week of February.
So what was your role?
In Greece our main role was analysis. As the Greek Prime Minister told me when he phoned in August, it's about finding out the underlying problems that are the cause; that is, the predisposition to disaster. So we aren't talking about how many helicopters or fire engines need to be bought, but about the reasons for the constant increase in combustibility or flammability of Greek landscapes including the suburbs. And about how the government can with a very broad-based program ensure that the landscapes are more resilient to fire.
What exactly is fire ecology?
Fire ecology aims to study the role of fire in natural ecosystems. So natural fire, such as from lightning strike, is involved, but also fire introduced by humans. Fire ecology is about finding out where fire plays a destructive part and where it contributes to enabling sustainable development of the countryside and ecosystems. Proper use of fire has contributed to our civilization being able to develop. However we shouldn't suggest that the many fires that happened last year were a good thing.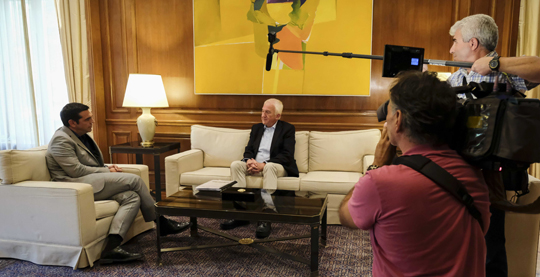 Greek Prime Minister Alexis Tsipras (left) commissioned Johann Georg Goldammer to develop a fire management strategy for Greece. Photo: Maximos Mansion, Athen
What is GFMC's function here?
We're working at the interface of science and real-life application, or as it's now called, the "Science Policy Interface" (SPI). We contribute knowledge from basic research to politics, as a basis for making decisions on environmental and forest protection measures. We have found that the gap between the steady growth in theoretical knowledge and its application is so large that given rapid developments we need to implement our knowledge faster in politics and practice – I'm referring only to factors such as demographic change, population growth, land use, and above all climate change.
So your work is mainly about advising politicians?
Yes, to a large extent. To do this we undertake situational analyses and advise countries and organizations on building up their own capacities – so that they are no longer dependent on our advice in future.
Would you also give advice to fire brigades, for instance in acute situations?
We advise fire brigades, but also universities, academies and schools, the latter in the form of workshops and seminars. For instance, we advise fire brigades on what the best equipment or special equipment might be.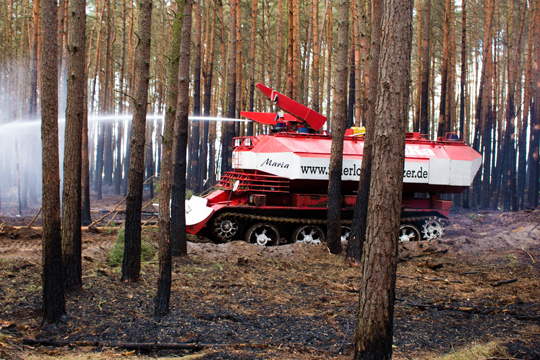 Protecting personnel: together with a corporate partner, the Global Fire Monitoring Center has developed a fire-fighting tank that makes it possible to fight fire in areas that are contaminated with ammunition. Photo: DiBuKa
What is your opinion of the risk level in Germany?
The fact that we have also had some major fires in Germany surprised many. Partly because of climate change, but also because of the deterioration of rural areas, we have been warning about this development for many years. On top of this is the fact that the fire brigades have problems with recruitment. We've been calling for better preparation for these problems for years. But the authorities have only now woken up to the facts. In Berlin we will soon be offering advice on the question of how Germany can adapt to fire safety better. It's about building up capacity, so that we can cope better in an environment shaped by climate change with extremely lengthy dry periods and extreme weather conditions, such as occurred recently in California. Most unusually for Germany, we still had forest fires in October. We are entering a climate of extremes. The forest has to adapt to this, but so do forest sciences too. It's a process that will take many years, maybe even decades. But we have to start it now. The incidents in California and Europe are clear warning signals.
You complain of a lack of political and financial support for fire prevention. Has anything changed since last summer?
No, it hasn't, if you're referring to Europe and Germany. There are two well-developed and equipped sectors in Germany: forest fire alert services and fire detection systems. However there are no satisfactory silvicultural or landscape cultivation measures, basically just purely technical measures. Europe has a new program which is called rescEU; its aim is to develop an EU aircraft fleet. But that's putting the cart before the horse. Europe still isn't managing to invest enough in prevention and disaster preparedness. But prevention should be the absolute priority. There are factors that give rise to fire that can't be eliminated – such as cigarettes being thrown away carelessly, thoughtless use of barbecues in the countryside, or overheated catalytic converters. Prevention means that we have to look at landscape elements, including forests, to see how well they are actually suited to preventing an outbreak of fire turning into a disaster. This is far more complex than simply providing money for the purchase of aerial firefighting craft merely to appear to be doing something politically.