Church from the user's point of view
Pastoral theology develops contemporary communications for pastoral care
Freiburg, Aug 21, 2020
Interest in Catholic weddings has waned across Germany in recent years. In a bid to to counteract this trend, Bernhard Spielberg, professor of theology, and his working group have developed the interactive website www.einfach-kirchlich-heiraten.de. The website helps remove some of the legal and organizational hurdles for couples planning a wedding.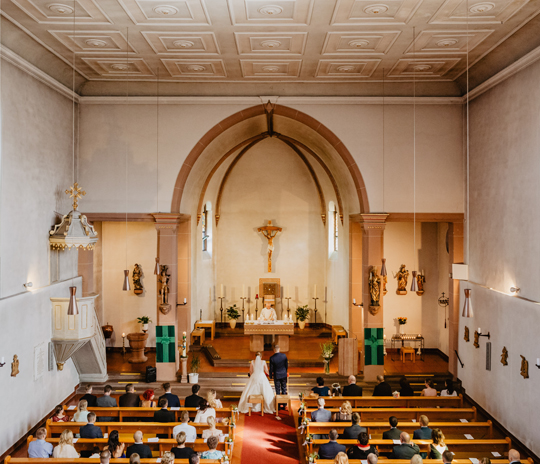 In today's strongly online age, couples still want to use their individually-designed wedding ceremonies to show how seriously they take their relationship.Photo: Sandra Meyndt 
All in white? With a bouquet? Couples planning their dream wedding are virtually overrun with wedding ideas on the internet. From floral decorations to wedding rings and music, they can find a whole range of offers - if they don't decide to just leave the entire organization to a specialized agency. If it is to be a Catholic wedding, couples will find formal information, for instance, on the website katholisch.de, right down to the contact details of their desired parish - if they do not wish to obtain the church's blessing in the district where they live. On 14 February 2020, the Archdiocese of Freiburg started on a completely new path, initially on a trial basis in the deaneries of Freiburg, Mannheim, Rastatt and Mosbach-Buchen. At www.einfach-kirchlich-heiraten.de, an interactive website is now available that makes it easier for couples to find their ideal priest and their dream church. Step by step they can click through questions to identify their personal wishes, up to and including the priests with photos and profiles as well as descriptions of the churches available in their region. "We take care of you," the website promises.
Not enough weddings

"We think about pastoral care today from the user's point of view, not from the institution's. And we are developing solutions," says Professor Bernhard Spielberg of the motives behind the website. In cooperation with the archdiocese, his pastoral theological research institution at the University of Freiburg (called "zap"), has developed the interactive marriage platform. The numbers show that it is high time to think from the users' point of view - far more clearly than for civil marriages, the interest in Catholic marriages is dwindling across the country. In the late 1980s, 110,000 couples chose a Catholic wedding, but in 2018, at just under 42,800, less than half as many couples came to the altar. Although it must be said that the downward curve has flattened out in recent years.
Removing organizational hurdles

Christina Biskupek, a research associate in the project, was looking for a contemporary form of communication which could be used to remove some of the legal and organizational hurdles. With the platform, she is seeking to make the church "accessible for people wanting to get married." They should no longer be restricted by parish opening hours, nor have to drive around for hours in search of the church that suits them, and a priest they like and who is available on their desired date. "Younger Catholics these days have hardly any contact with the parish in their place of residence," Biskupek acknowledges. The idea has always been that they should go there first, find out about all the formalities and get a kind of referral if they want to be married somewhere else by someone else. The new website can remove some or all of that effort. Particularly in light of the fact that very few couples today still come from a conventional Catholic background. In a majority of cases, only one of the partners is Catholic.
Individual rituals at the ceremony

And yet, the Catholic wedding ceremony in a secularized and individualized society does not become just a pretty piece of theater at stylish wedding event. Bernhard Spielberg admits that the website is a kind of marketing. "And first and foremost, that means presenting yourself honestly against the competition and showing what you've got, he says.  But he emphasizes that "more than all the sparkle, couples want their relationship to be blessed and embedded in a reality that is greater than themselves." The ritual of the wedding ceremony can be arranged in such a way that "they appear as individuals with their own history and preferences and not just as part of a fixed process." For Spielberg, the website is not a guide to mere "consumption" of the church. Far from it - "With the music they have chosen, with the flower arrangements, with the special ambience of their chosen church, they can create a setting in which they can show friends and relatives how serious they are about their relationship."
Anita Rüffer
Video: Kirchen außer Betrieb - Podcast zur Coronakrise (Church out of order – podcast on the Coronavirus crisis)