Beyond Dreadlocks, Joints, and Flip-Flops
Benjamin Burkhart's musical analysis of the genre reggae contradicts and confirms common clichés
Freiburg, Jan 14, 2020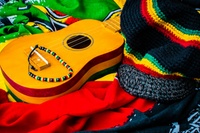 Photo: meik17/stock.adobe.com
Harmonically minimalistic reggae with variable vocals is likely to be popular with German fans, says the University of Freiburg musicologist Dr. Benjamin Burkhart. Reggae is a genre that has been adopted by many societies, here too. Burkhart has presented a musical analysis of the genre. He also analyzed reggae media, including photographs and articles. While fans only partially correspond to the usual clichés, musicians are more than happy to exploit typical reggae images in photographs, for example.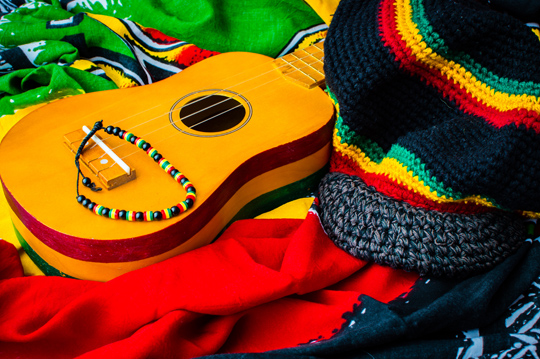 The pan-African colors – green, yellow, and red – are de rigueur for reggae shows. Photo: meik17/stock.adobe.com
Reggae occupies merely a small niche in the world of pop. "Yet when it comes to the transfer of culture, the genre is very interesting," says musicologist Benjamin Burkhart of the Center for Popular Culture and Music ("Zentrum für Populäre Kultur und Musik,
ZPKM") of the University of Freiburg. Reggae originated from the Caribbean island of Jamaica. But for an exotic genre on the margins, the reggae scenes in many countries, including Germany, are quite considerable. How do today's fans approach the music? Which stars and songs do they rate highly? Burkhart examined these questions and others while working on his doctorate. He was surprised to find, he says, "In the German-language areas, they're hardly interested in German reggae musicians. The locals are overshadowed by their Jamaican colleagues."
Tropical reggae and urban dancehall
Burkhart's musical analysis qualifies preconceptions as well. Pot-smoking Reggae fans with matted dreadlocks and flip-flops only partially reflect the truth. "The reality is contrary to the public image," he explains. Burkhart has seen another, "much more varied," side to Reggae's devotees. Nevertheless, he encountered plenty of fans at festivals who met the typical image, wearing "dreads," flip-flops, and toking on joints. He says, "There are indeed clichés, but it's my impression that they only apply to a small share of fans." The musicologist examined hundreds of texts and images from German reggae media as well as hundreds of songs. As he worked, he discovered which artists exploit the stereotypes typical of the genre.
Burkhart points out the record "The Winter Soldier" by Busy Signal. It's one of the best-known representatives of what's called "dancehall" style, which makes up one of the two major streams of Jamaican popular music. In spite of a few differences in recitative and rhythm, dancehall is reminiscent of North American hip-hop. Dancehall stars are happy to depict themselves as tough and militant, like rappers in the US. Busy Signal is toting an automatic weapon on his back and looks darkly over his shoulder into the camera. "Photographs often additionally portray dancehall performers in urban, big-city settings," says Burkhart. Reggae gives off a different vibe. It maintains the classic rhythms, as Bob Marley did back in the day, with song dominating. "Reggae musicians are often shown in a natural, tropical setting," explains Burkhart. Most wear dreadlocks, and somewhere there'll be a splash of pan-African colors – green, yellow, and red – inspired by the Ethiopian flag.
Starting out as a guitarist
Burkhart summarizes by comparing articles in German reggae media, for example, in magazines that cover the scene. He says, "On a visual level, the clichés people have in their head are met far more than they are on the level of lyrics." In his dissertation, "Genre im Diskurs" ("Genre in Discourse") he analyzed additional aspects and details. The German magazine "Riddim" is frequently cited as a source. "It was my most significant basis for texts and images," Burkhart says, adding that he wanted only to use existing material, rather than interviewing people from the reggae scene. He discovered reggae as a topic because there hadn't been any analysis of it and he found the musical content interesting. Experience guided him as well. Around fifteen years ago near Freiburg, Burkhart played guitar in a ska-punk-reggae band. He grew up in the Schwarzwald-Baar area.
Burkhart studied musicology in Würzburg and went on to get a Master's and Doctorate in Weimar. Since 2018, he has been a research assistant at the Center for Popular Culture and Music (ZPKM) within the project "Musical Objects of Popular Culture" ("Musikobjekte der populären Kultur"), which is dedicated to the cultural history of playback devices. He also wants to continue his research into reggae on the side by exploring how it was received early on and adopted in Germany. He's observed an "appreciation for minimalistic melodic design" among today's fans. Burkhart explains that they prefer to hear a few patterns of tempo, groove, and harmony, while the vocals apply a "considerable range of possible melodic designs." Critiques and reports have high praise for variability when it comes to song, even for vocalists from Germany, if they are mentioned at all. "In Germany," says Benjamin Burkhart, "it seems as if the local scene of reggae musicians consists solely of the great star from Cologne, Gentleman."
Jürgen Schickinger