Award "KI-Newcomer 2023" for research on voice-controlled robotics
Freiburg researcher Oier Mees receives the award "KI-Newcomer 2023" from the German Federal Ministry of Education and Research
Freiburg, Apr 27, 2023
Oier Mees is a PhD student in the Autonomous Intelligent Systems group at the University of Freiburg's Faculty of Technology and is working on speech-controlled robotics based on Deep Learning. At the end of April, he was awarded as "KI-Newcomer 2023" from the German Federal Ministry of Education and Research (BMBF) and the German Informatics Society (Gesellschaft für Informatik) in the category of technology and engineering sciences.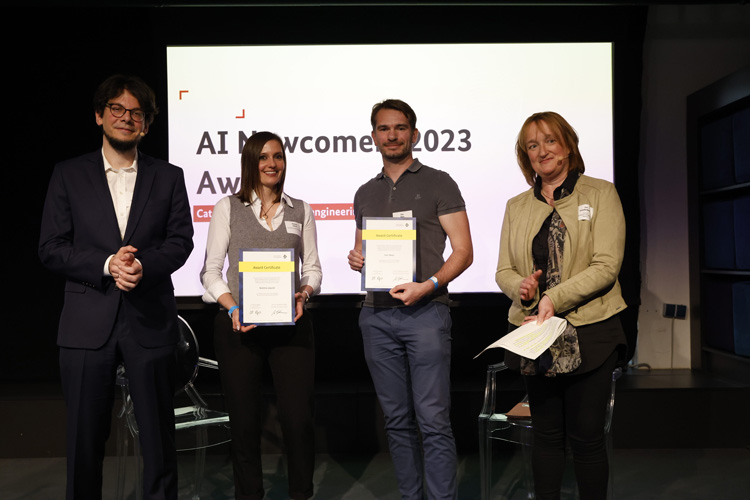 The prize was awarded at the International AI Camp 2023 in Berlin. In addition to Oier Mees of the University of Freiburg, Noémie Jaquier of the Karlsruhe Institute of Technology also won in the discipline of technical and engineering sciences. Foto: BMBF / Christina Czybik
Among other things, Mees is working on the question of how learning robot systems can autonomously acquire everyday knowledge by following voice instructions. Mees is trying to enable machines to intelligently interact with both the physical world and humans and improve over time. He explains how this works in a very practical way in the following video, which provides background on voice-controlled robotics and Deep Learning.
"The ultimate goal of our research - I think of most robotics researchers - is generalization.  That's the biggest obstacle to why the vast majority of robots today are still sitting around in labs and not in the home," Mees says, summarizing the basic goals of his research.
befc7818317d13225d2031541f675ebc