Notes, words and a sense of commitment
The Nachhall concert readings project combines entertainment with a good cause
Freiburg, Dec 08, 2017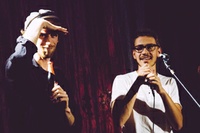 Photo: Lena Andrian
Nachhall is a concert readings project set up by Freiburg students to raise funds for charitable purposes. The whole of the next event on 11 December 2017 will be interpreted simultaneously in sign language.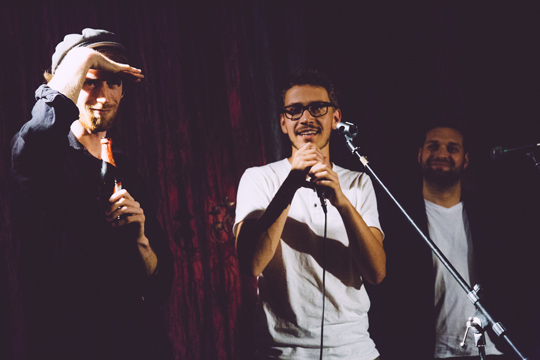 Danny McClelland, Gottfried Haufe and Robert Wolf (l to r) describe their performances as offering direct contact with the audience and a very intimate atmosphere.
Photo: Lena Andrian
"There are many creative types in Freiburg and many great projects, but there hasn't been a concert readings project before," says Robert Wolf, co-founder of Nachhall. The idea of combining music and literary texts isn't new. "The unusual thing is that we see ourselves as a team," says Gottfried Haufe. "Often there's one person who presents texts and music, or there are several people who appear in competition with one another. But we are three friends who complement one another artistically."
Number three of the group is singer-songwriter Danny McClelland, who is also known as the singer of the band Redensart. To begin with, many of the audience mainly came to the shows for McClelland. Now, he's not the only one. After five events already, Nachhall has made a name for itself. "Each of us does our own thing, each of us has our own pet project and our own style," explains Haufe. He personally studies English and history and likes to write "humorous texts with philosophical depth." By contrast, his colleague Robert Wolf describes his texts as "cabaret read aloud". "I really like to make people laugh and think at the same time," he says. He tells stories that happened to him and ideas that moved him. He also likes to write about his experiences with his godchild. "It's important to us that people can identify with our texts, that they take something away with them."
Their declared aim is to give the audience a great evening. At the same time, the three of them use their performances to support charitable projects. So the group don't charge for the concerts, but they ask for donations to social projects in and around Freiburg. Each performance presents a new project that receives the donations for that evening. The final show of the year, the Nachhall-tigen Jahresausklang on 11 December 2017, will be raising funds for Frauenhorizonte – Gegen sexuelle Gewalt e.V.
Special guests
The artists are also keen to work for inclusion. So all of this year's end-of-year event will be simultaneously interpreted – into sign language. Interpreters Bea Blumrich and Barbara Herold have volunteered for the role. As with each event, this evening will also focus on a special theme: dots and stripes. However the three students don't want to reveal what guests can expect.
The Nachhall members have noticed that they are now established in Freiburg – not just because they have a regular crowd. For their appearance in October 2017 they were also able to welcome a famous guest to the stage: Jess Jochimsen. "That was an accolade," says Haufe. Two shows earlier, Jochimsen had been in the audience and then offered to perform with them. "It was great to work together with someone that we had ourselves often been in the audience for," gushes Wolf. "He's a great role model for us."
Big plans
The trio already have a few ideas for 2018. "We would like to film a performance and maybe release a CD," says Haufe. Or maybe perform in another city some time. In any case, the project will continue, even if the three will soon have completed their studies in Freiburg. "We don't yet know where this will lead, but as long as it's fun to do we'll keep doing it," emphasizes Wolf, adding, "But it's always important to us that we keep the feeling that we have now during our performances: direct contact with the audience, no stage and a very intimate atmosphere." This is the only way to do justice to their words, which are often autobiographical and highly personal.
Nachhall-tiger Jahresausklang 2017 The event takes place on 11 December 2017 from 8.30 p.m. in the Altes Klavierdepot in Schwarzwaldstraße 7, 79117 Freiburg. Admission is from 7.30 p.m. Admission is free but donations are requested for Frauenhorizonte e.V.
Julia Dannehl