Fridays for Studies
An eleventh-grader attends her first lecture at the University of Freiburg
Freiburg, Jun 05, 2019
Do selfies appear in literature and if so how? Why does international law find licensing autonomous weapons hard? And what strategies can be used to cope with feelings productively? The new 'Junge Universität Freiburg' [Young University Freiburg] lecture series aims to introduce teenagers to the world of academia. What do school pupils think of the concept?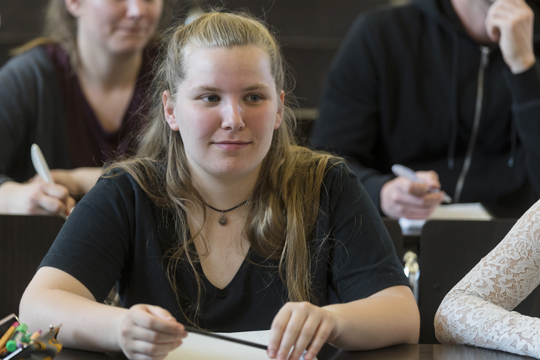 Armed with pen and paper: Lea Wehler attends her first lecture. Photo: Jürgen Gocke
It's Friday afternoon and school is done for the day, but the learning continues: instead of going home, 17 year old Lea Wehler is traveling by public transport to Freiburg. She's going to attend her first lecture at the university. Her older sister Lara Wehler, a student of Media Culture Studies, told her about the science lecture series 'Faszination Wissenschaft: Junge Universität Freiburg'. School pupils aged between 14 and 18 can take part in specially-planned lectures in various disciplines.
The idea grew out of the Studium Generale at the University of Freiburg, and was launched in the 2019 summer semester. "We want to introduce the teenagers to the fascination of science in lively, clear and concrete terms, and familiarize them with the idea of a great university with a venerable tradition and a wide range of offerings and opportunities, as well as with the reality of research," explains Prof. Dr. Werner Frick, head of the program. Early contact with the university can help school pupils to decide on a course of study, emphasizes Prof. Dr. Juliane Besters-Dilger, Vice President for Academic Affairs, "The series helps to orient young people who are wondering what education to take up after leaving school. Given the broad range of subjects, they can consider the opportunities and specialist options they can choose from in future studies."
Free, independent, open
Lea is in the eleventh grade at the commercial high school in Offenburg. She would love to study ethics, English and global studies, a new field of studies which focuses on aspects such as debating and globalization. She still has a little time before she becomes a student, as she is only due to take her 'Abitur' in 2021. Lea sees the university as a place for free, independent learning. When she becomes a student she wants to leave the family home and live in a shared house. "I think it's an important part of being at uni to live independently. Of course you work at the same time, and commuting would be too much for me."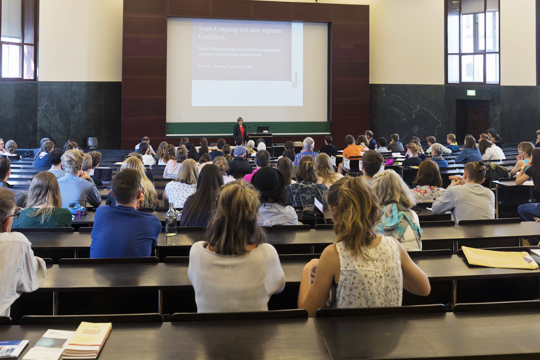 A large crowd after school: the teenagers like the concept. Photo: Jürgen Gocke
At today's lecture, Freiburg professor of psychology Brunna Tuschen-Caffier is speaking on the subject of coping with one's own feelings, and looking at research into the management of emotions and mental health. Lea sets out her notepad and pens neatly. She is open to the subject, although she would have preferred to attend the lecture on selfies in art and literature. She regrets having missed that talk, especially in view of her professional plans: she wants to study creative writing and then work as an editor or proofreader.
Lecture theater 1010 in Kollegiengebäude I is now filling up with teenagers, parents and teachers. The 'akademische Viertelstunde', the quarter hour in which everyone settles in before the lecture, is over – the lecture begins. This is not the first event of this kind for Tuschen-Caffier: a few years ago she took part in the 'Childrens' Uni' at the University of Bielefeld. Back then, her audience was far younger. She had to tailor the PowerPoint show that she normally uses for her lectures to the target group of school pupils, and even omit some of it. She also left out some statistical details. But the models she showed would be the same for her students. "I think it's important to take the young people's level of knowledge into account and at the same time to emphasize some material."
Developing the format
After the lecture the school pupils have half an hour for discussion – and they use the opportunity to ask follow-up questions. "I think it's great that these young people have such a great interest in scientific material," says Tuschen-Caffier. Their ability to learn specialist terms and build on what they learn is remarkable. Naturally school pupils cannot be expected to adapt straight away to the intellectual world of empirical science: so it is entirely okay that some of the questions digress from psychology and move into other areas such as science fiction. Tuschen-Caffier wants to take part in the lecture series again in future. In order to try out new material, the academic wants to take up a different theme, such as eating disorders, which are also part of her research.
Lea is enthusiastic about the lecture and the discussion, "I didn't get to ask any questions, but I enjoyed listening to the others." Tuschen-Caffier illustrated her results with a lot of examples and presented them clearly. So Lea was well able to understand the researcher and follow her reasoning. She felt the length of the event was appropriate and was surprised by how many attended. Now, Lea Wehler is planning to come to the next lecture – and maybe bring a few of her schoolmates, "I can think of a few of my friends who would be really interested in the next subject in the field of physics and biology."

Patrick Siegert