Seeing, remembering, mastering
Medical students develop visual aides-memoires to help them better remember what they have learned
Freiburg, Jul 24, 2017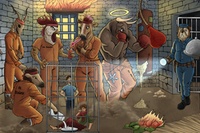 Source: Meditricks
Freiburg medical students Paul von Poellnitz and Michael Seifert have developed an idea they call Meditricks, aimed at helping students use images to better understand and remember complex material. For this they recently received a 160,000-euro EXIST startup grant. A book, videos and teaching software are to follow. Lars Kirchberg spoke with the two developers.
"It's the crazy things you remember best": this visual memory aid explains fever.
Source: Meditricks
Mr von Poellnitz, Mr Seifert, what do your learning images look like?
Paul von Poellnitz: Broadly put, they are visual memory aides. In Medicine in particular we have an enormous amount of concepts and facts to learn. We aim to give each one an emotional face. For example - if I think of the bacterium for legionnaire's diseases, I think of a legionnaire. That would be a central association in the image. We are gathering a load of medical connections around that, and it slowly forms a story. Characters develop who can be recognized in the other images - for instance, the duck ["Ente" in German] for encephalitis.
 Michael Seifert: It's a lot of fun when characters you've come to like pop up in other images and other contexts. You can also divide up your images like in a table. That puts structure into the information.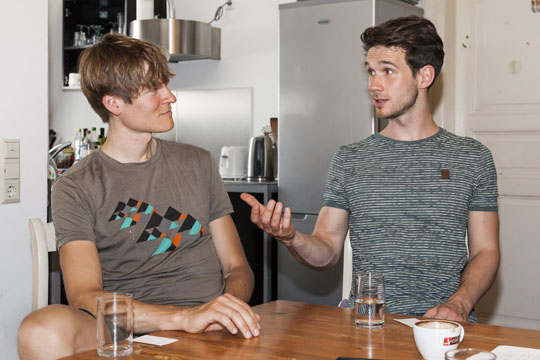 To enjoy learning and to be successful at it - Paul von Poellnitz (left) and Michael Seifert used to cram for exams - now they aim to make it easier for medical students to prepare for their own exams.
Photo: Ingeborg F. Lehmann
Some of them are pretty crazy stories.
Michael Seifert: It's the crazy things you remember best. When you talk to other students, you discover what abstruse connections they sometimes make. That inspired us.
This project follows a new didactic approach - How is studying with images different from "traditional" studying?
Paul von Poellnitz: To be sure, it's fun and entertaining. The material stays in your memory much better, and you can recall the information much quicker. I think of a particular image and all of a sudden all the facts come back to me.
Michael Seifert: Our first book is about antibiotics. Every medical student knows that that is a real pain to learn. With our technique you can place yourself into a story and understand the characters. You have much more connected information at hand. It's a big advantage.
After you have described the story, you start drawing. Do you do that yourself, or do you have someone who does it for you?
Paul von Poellnitz: We used to do it ourselves, but our drawing skills are limited. Now we do a rough sketch and pass it on to our graphic artist.
Do you have any templates for this, or is it a completely new thing?
Paul von Poellnitz: In the US there are some providers who have taken up the concept and are commercially successful with it. But to my knowledge we are the first in the German-speaking world to take up the concept at this level.
Were you inspired by the Americans who had tried it?
Michael Seifert: A bit, yes. I spent some time studying in the USA and saw this purely by chance. To enjoy learning and to be successful at it - that was a revelation to me, it was the perfect product as far as I was concerned.
Paul von Poellnitz: It was similar with me. I was in my ninth semester, looking for diagnostic pictures of children's diseases, and I found a card an American student had made to help her remember. A light bulb went on in my head. Then while I was studying for my state exam, I started sketching a few interrelated themes just for myself. Soon I had about 60 pictures and I thought it would be nice to share them with my fellow students. It all went from there.
What areas do you plan to cover in the future?
Paul von Poellnitz: Basically, we are orienting ourselves towards the material which is important for the medical exams. We sought out the topics where there was the most rote learning and where it is complicated to remember the material. We want to cover the most important areas one by one. Currently we are at pharmacology; that's an area which is key for students and practicing doctors alike. I think doctors would like a more relaxed learning format too.
You got an EXIST startup grant for your project. Where do you go from here?
Michael Seifert: The funding is great. Up to now, we worked mostly in our free time; now we can devote ourselves fully to the project. From July 2017 we will have around 70 videos. In the long term we want them to form the basis of a teaching software program. A book on infectiology is coming out by October this year.
Paul von Poellnitz: If we had an office in Freiburg and a team, that would be great. We have some helpers now who support us very enthusiastically. We are looking forward to keeping up with the artistic production, to fine-tune our methodology, and to expand into difficult areas of medicine.
EXIST startup grant

The EXIST startup grant is a funding program run by the German Ministry of Economic Affairs and Energy and co-financed by the European Social Fund. The grant helps researchers, students, and graduates to implement their business idea.

Meditricks