Well-connected
How people use social media at the University of Freiburg
Freiburg, Feb 06, 2018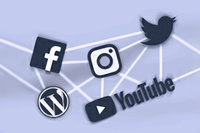 Illustration: Jürgen Oschwald
A billion YouTube video clicks from people around the world – and that in a single day. And that doesn't include the time they spend on Facebook, Twitter or Instagram. One statistic out of many and yet it proves social media's triumph in the past few years. What kinds of experiences have people at the University of Freiburg had with social media and what do they use it for? Sonja Seidel had a look around.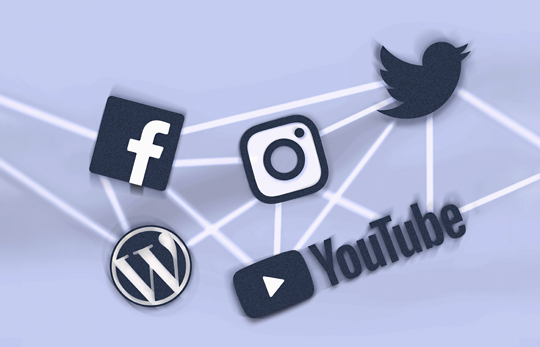 Illustration: Jürgen Oschwald
For Dr. Max Orlich, social media coordinator at the University of Freiburg, the reasons for its success are obvious: "The networks provide endless opportunities to engage with others and to pique their interest." Together with his colleague Melanie Hübner, Orlich conducts courses for University of Freiburg staff about how social media can best be used. A few things to consider first: "I first have to think about which channel is suitable for my content and whom I wish to address exactly." Orlich and Hübner have worked out parameters for social media netiquette as well as social media guidelines, which help people develop the right tone and to receive positive resonance for their posts.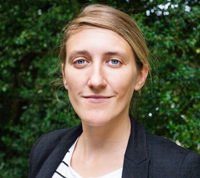 Mathilde Bessert-Nettelbeck, staff member at the Cluster of Excellence BrainLinks-BrainTools
Photo: Tony Franzky

"In our project 'Reaching out: Participative projects and ethical discourse on neurotechnology', we communicate with the public about the ethical and social issues raised by BrainLinks BrainTools research - our blog is an important medium for doing so. Therefore, we publish posts that deal with neurotechnologies and their value. In addition, we share announcements about events, photos, and videos. In that way we can show how our project is coming along. Several researches now blog in a similar fashion. They use the medium to capture their work like they would in a diary. At the same time they are able to show the public that science is a process and not just a result. I find it fascinating to follow the developments that way."
www.brainblogreachingout.wordpress.com
Maren Vivien Haase, bachelor's student for German Linguistics and Cultural Studies
Photo: Yufei Kong
"My YouTube channel videos are always filmed with a touch of humor and tend to make light of some social media trends. To date the most successful posting has been a craft video in which a made glittery slime you can use like a stress ball. At the time of publishing, glittery slime was all the rage on YouTube. I got more than 6,500 likes for it and it received more than one-half million clicks. In the beginning I wondered what my peers would think about my producing films for YouTube. The only thing that helps is being courageous and simply diving in. The more videos you make, the more you learn what works and what doesn't, what's fun and what the users like the most."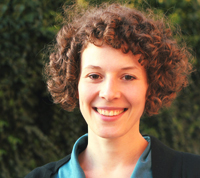 Junior professor Dr. Sina Leipold, Institute of Environmental Social Sciences and Geography
Photo: Carolin Meier

"Twitter helps me keep up to speed with what's happening in the scientific community and in the general public. I myself share information on Twitter that relates to my junior group Circulus. The focus is mainly on the circular economy and the bioeconomy, but also on topics relating to environmental policy analysis. When I attend conferences, I tweet a lot: I was recently at the World Resources Forum in Geneva and wrote about several presentations and interesting projects from other people. Those tweets are particularly popular with my followers. Up to now they have been mainly natural scientists who are active on social media. In my field of study, which is the social sciences, therefore, you should lower your expectations as a researcher if you start on Twitter. In order to develop a greater following, you have to join forces with other colleagues and run the channel together."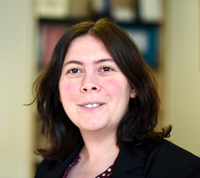 Saskia Hunsicker, staff member at Studium generale
Photo: Patrick Seeger
"The Studium generale at the University of Freiburg has a Facebook page to promote its events such as courses and lecture series. It works really well. By the time we posted the 2017/2018 program, 12,000 people had clicked on it. Before we became active on Facebook, we had to think hard about what we wanted to use social media for. I think it is really important to be clear about your own expectations and goals relating to social media. Once you get started, you have to keep the ball rolling and regularly by posting at least once or twice a week. You should operate a social media channel properly and not only because everyone else is doing it. Visual augmentations, such as images and videos, have particular resonance. And you should remain fair in the comments section and observe the University of Freiburg's netiquette."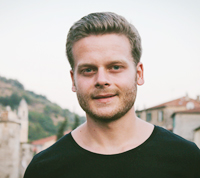 Max Hild, master's student in economics
Photo: Sissy Bräuer

"I used to share snapshots from my private life on Instagram. But about four years ago, I started doing photography more professionally. I thought it a shame I didn't have a place to share my pictures. Instagram has become that place for me. I now post landscape images, such as those I took while hiking. But I also view other users' images and draw inspiration from them. Most people like my Black Forest pictures, most likely because they are regional followers and can especially identify with them. As a photographer, you have to be consistent on Instagram, which means you should use pretty much the same imagery each time. And in order to best be found and seen, you should search for the appropriate hashtags that reflect your style."
Netiquette at the University of Freiburg

The University of Freiburg published parameters for social media netiquette and social media guidelines, including tips on how to best use the Internet as well as the legal aspects.