Subscribe, Read, and Stay Informed
Six special monthly newsletters present the latest news from the University of Freiburg's Online Magazine
Freiburg, Nov 09, 2017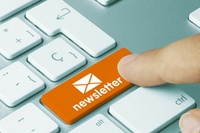 Photo: momius/Fotolia
The University of Freiburg's Public Relations Office is now offering six interesting, informative, and entertaining newsletters covering a wide range of topics about the University as part of its Online Magazine on the University's homepage. Interested readers can now sign up here for the free newsletters anytime.
Photo: momius/Fotolia
In March 2017, the University of Freiburg expanded its homepage into a multimedia Online Magazine, with continuously updated articles, photo galleries, and videos covering the latest news and events. The features focus on the people who impact and enrich the University and tell their stories. All information is in German and English and is organized into six sections. You can now also subscribe to one or more monthly newsletters with the latest news for each section. Simply pick and choose what you want to know more about according to your interests.
If you're interested in subscribing to one or more newsletters, please sign up here.
Nicolas Scherger