One Card to Rule Them All
The new UniCard is on its way. What fun things could you do with such a smart card?
Freiburg, Jul 20, 2018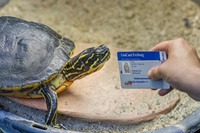 Photo: Jürgen Gocke
Right now, you can use the UniCard to pay for lunch in the Mensa cafeteria, to make copies of books you need, and to get a discount in cinemas and theaters. It is truly an all-purpose card. In the next winter semester, a new UniCard will be issued to students at the University of Freiburg. Although the new card looks almost like the old one, it is based on a new system that provides even more secure data management. Wouldn't it be cool if the card had a few additional features? Kerstin Ernst and Jürgen Gocke came up with a few interesting ideas.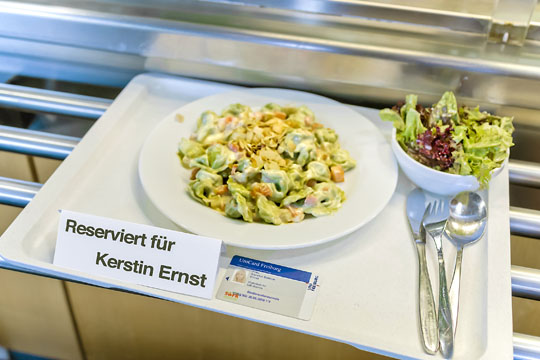 Photo: Jürgen Gocke
Instead of waiting in those long lines, you could order your lunch ahead of time with your UniCard.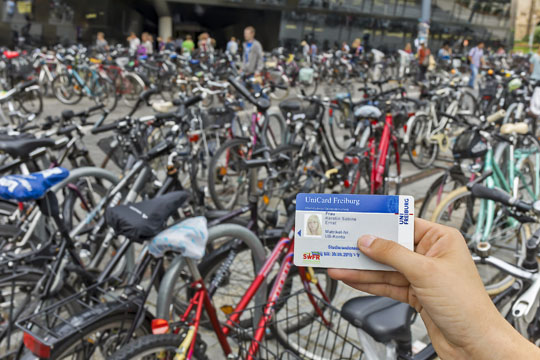 Photo: Jürgen Gocke
When you reemerge into the daylight after studying hard at the university library, sometimes you just can't remember where you parked your bike in that sea of metal and rubber. If the UniCard had a search function, it could direct you straight to the right bike.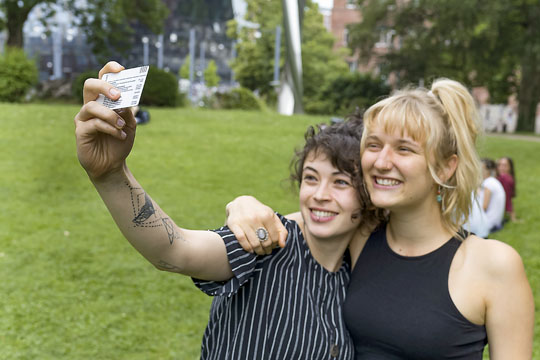 Photo: Jürgen Gocke
What if you could change the picture for your profile whenever you liked, like with Facebook, Instagram, etc.? With a selfie function, you could take a picture in seconds and not have to walk around with an embarrassing mug shot on your UniCard.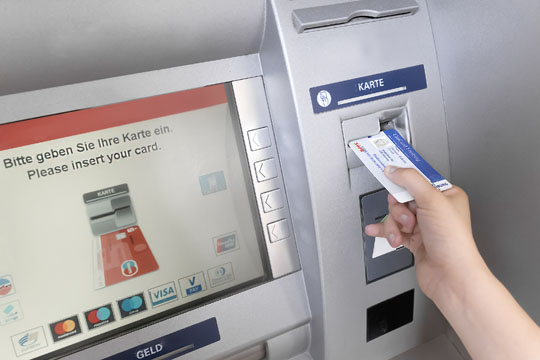 Photo: Jürgen Gocke
All students know that you can use the UniCard to pay everywhere on campus. But wouldn't it be practical if you could use the card to take out money outside the imaginary university walls as well?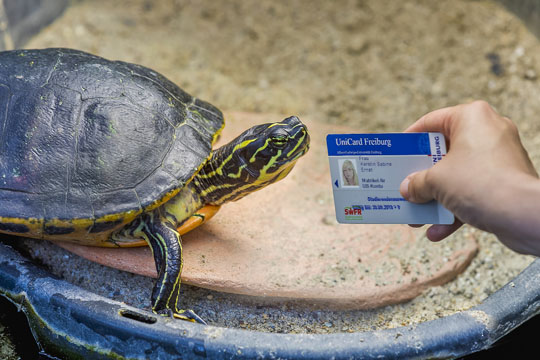 Photo: Jürgen Gocke
Yep, that's a yellow-bellied slider alright! With a classification function, you could identify all the different animals at the Botanical Gardens.
New UniCard

The new UniCard will be introduced gradually starting in the next winter semester. The students enrolling at the University of Freiburg for the winter semester of 2018–19 will be the first to receive the new cards, which will no longer have a picture ID. New card holders will also no longer need to validate their UniCard every semester because it will be valid for a standard of five years. Also, if you lose your card in the future, you can block it yourself. Your current UniCard will remain fully functional and will be replaced with a new one only if it is no longer valid or if it is lost.

More Information about the UniCard