Memories of the Gulag
An exhibition at the University Library throws light on a dark chapter in the history of the former Soviet Union
Freiburg, Nov 03, 2017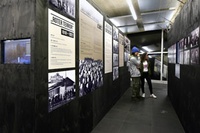 Photo: Thomas Kunz
The Gulag is the name of the extensive system of penal and labor camps in the former Soviet Union and the government agency responsible for running them. Millions of people were imprisoned in this system up to the end of the Soviet Union. This time was marked by great injustice, isolation, and the punishment of many families. The exhibition at the Freiburg University Library (UB) presents unique historical documentation of the Gulag. The items on display bear testimony to this time and tell stories from the daily lives of the prisoners. The exhibition is part of the Russian cultural festival "Russische Kulturtage 2017." It runs until 16 February 2018 and may be viewed daily in the University Library from 10 a.m. to 8 p.m.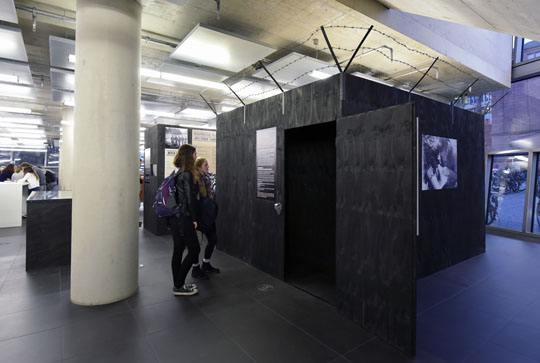 A documentary film shown in a black chamber relates the tragic fates of individual prisoners in the form of letters from fathers.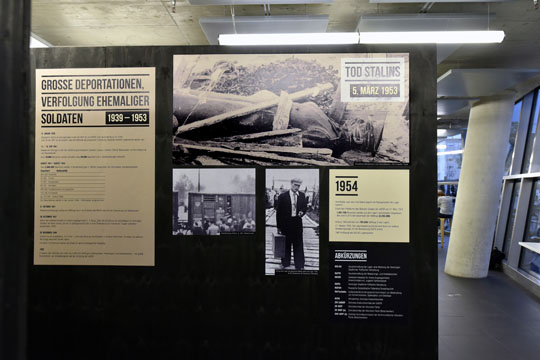 Information boards trace the history of the Gulag.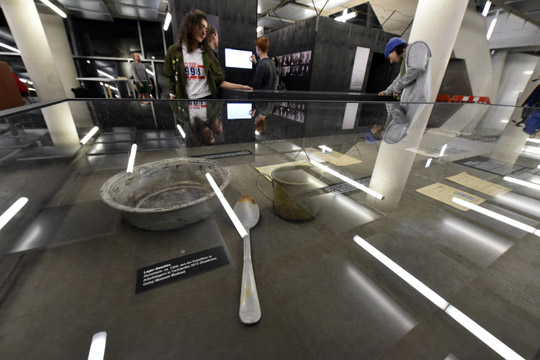 The prisoners often only received a small amount of bread and balanda, a watery soup, to eat.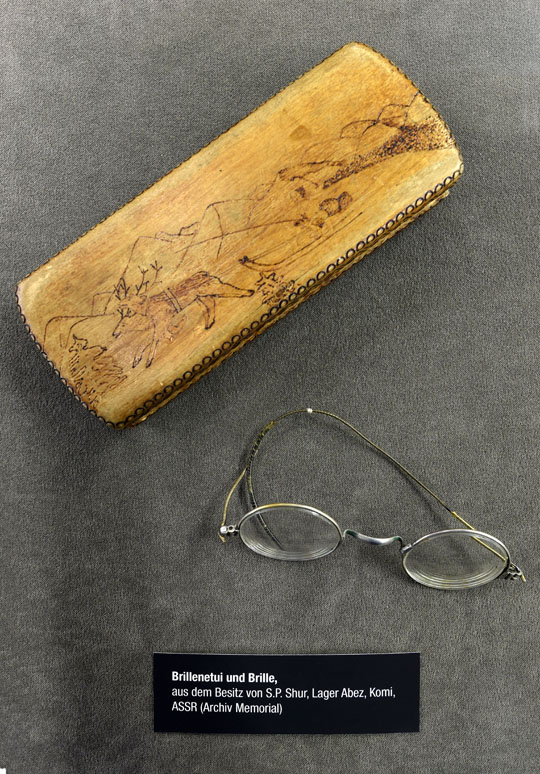 Many of the camps had their own workshops. The prisoners fashioned personal objects on special occasions – like this glasses case engraved with a winter landscape including a reindeer sleigh.
This decorative cigarette case was made in one of the labor camps.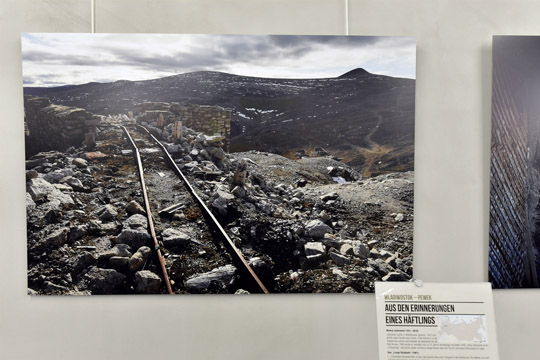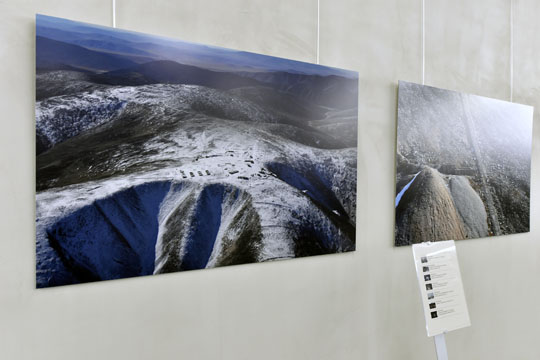 Photographs by Andrej Shapran, who is documenting the architectural remains of labor camps – barren landscapes in the vast expanses of Siberia.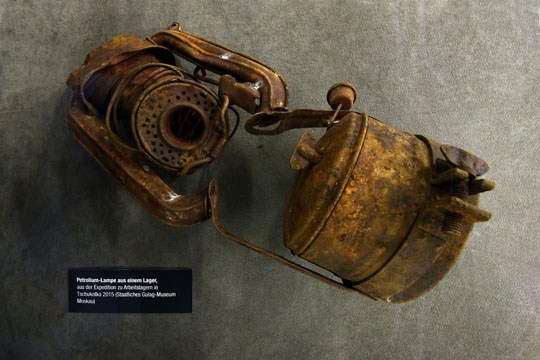 Petroleum lamps provided light in the labor camps, in the blizzards of icy Siberia.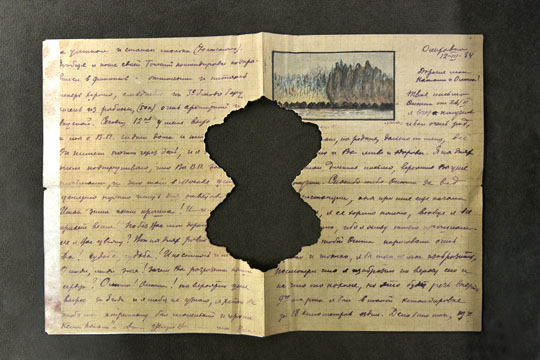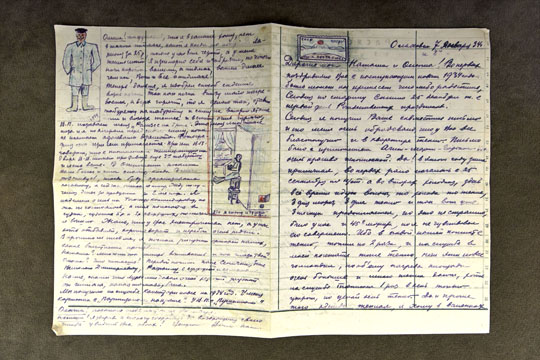 Letters from imprisoned fathers to their children and their wives.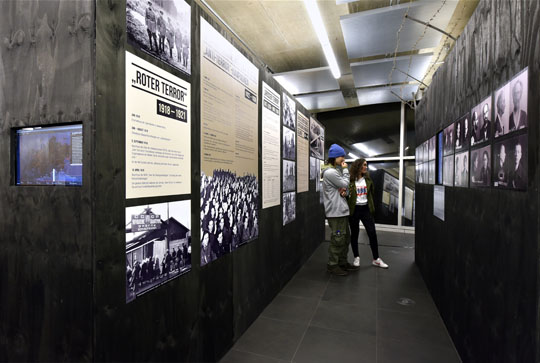 Interested visitors learn about the Gulag.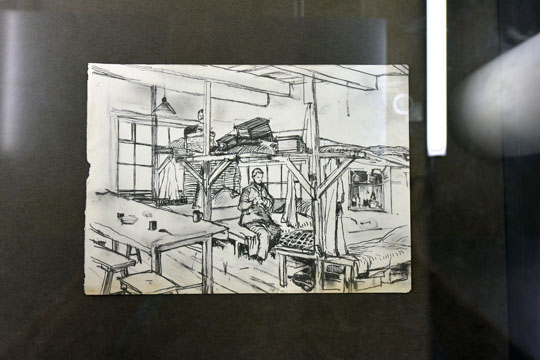 The prisoners slept on simple wooden beds – drawing from a camp by Iwan Suchanow.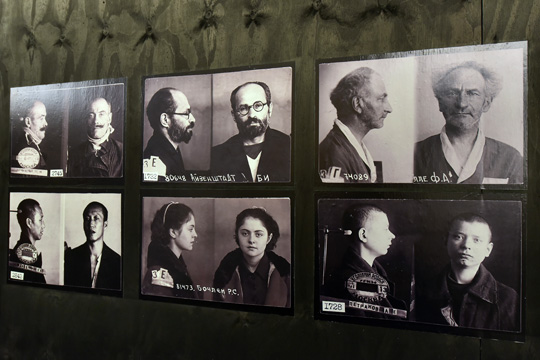 The panels show portraits of people who died or were executed in the labor camps.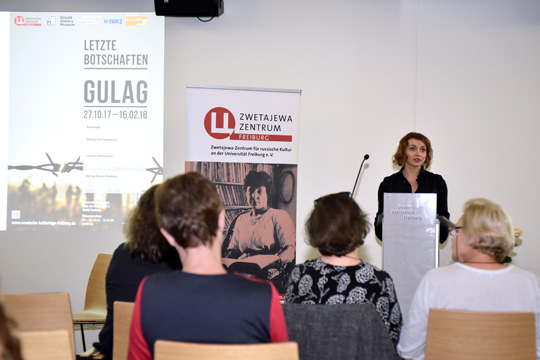 Margarita Augustin is the curator of the exhibition.
Texts: Niklas Luginsland; Photos: Thomas Kunz
Lecture on the Exhibition

Roman Romanov, director of the Gulag Museum in Moscow, Russia, explores the issue of finding a suitable means of dealing with this past in his lecture "Gulag – Erinnern oder Verdrängen?" ("Gulag –Remember or Forget?"). The lecture will be held on 15 November 2017 at 8:15 p.m. in Collegiate Building I, lecture hall 1221. The language will be Russian (with a German translation). Admission is free of charge; registration is not necessary.