Four Weeks in Naples Then Home
The corona crisis means that exchange students around the world are having to decide whether they stay or head home
Freiburg, Apr 02, 2020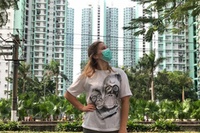 Photo: Kim Witetzek
Hannah Rüßmann is in her 8th semester of medicine studies at the University of Freiburg. She wanted to live and study for six months in Italy, and this was about to come true in February 2020, when she traveled to Naples on the European Union's Erasmus program. But instead of staying until July, just four weeks later she was back – bringing with her many new impressions, a touch of wistfulness, and hope. Yet others, such as Kim Witetzek, are staying abroad. The EU Office and the International Office at the University of Freiburg made contact with every exchange student early on. They help with the questions that arise because of the corona crisis: What happens with my studies? What formalities have to be observed? What online services does my university or the partner university offer?
View from the pediatric clinic at the Naples hospital where Hannah Rüßmann completed an internship before the start of the semester. Photo: Hannah Rüßmann
What with honking mopeds, narrow alleyways, and reckless overtaking, in mid-February the taxi took a good 45 minutes from the airport to the center of the Italian city of Naples. Four weeks and a national lockdown later, the taxi took barely ten minutes for the return journey. The roads were practically empty. After the situation in Italy escalated because of the spread of coronavirus, Hannah Rüßmann decided with a heavy heart to break off her semester abroad temporarily. "I was afraid that I wouldn't be able to leave Italy. Regardless of corona, situations can always arise where you have to go to hospital or back to Germany," she explain. The decision feels the right thing to do, but it wasn't easy to take. "I felt very much at home in Naples and at the university there. And I had a great bunch of flatmates," she says wistfully. Together they would definitely have coped well with the quarantine.
Early contact
The EU Office at the University of Freiburg contacted Rüßmann and the other Erasmus students throughout Europe from mid-February on. "We wrote to everyone and asked how they were doing, whether they wanted to stay or come home and tried to provide as much information as possible," explains Christian Jäger, head of the EU Office. He and his team compiled a list of the most important questions and continue to check on how the situation changes each day, because it is so dynamic. Normally there would be 300 to 350 students of the University of Freiburg spread around Europe with Erasmus at this time of year, says Jäger. Outlining the current state of affairs at the end of March, he says, "Forty-two of them have canceled completely or paused their studies, 142 are already back in Germany and attending online courses run by their respective partner universities, 144 are still abroad."
Despite many attempts they still haven't heard back from seven students and are now trying to reach them via their parents. However, so far he and his team haven't heard from any worried parents. Nor has Dr. Jens Langer, who as coordinator at the International Office (IO) looks after exchange students in Asia, Australia and Oceania. "At the moment it's primarily about responding as flexibly as possible to spontaneous questions," he says, adding, "Mostly we're asked about the online services of the partner universities." Around twenty students from Freiburg were currently on exchange in the areas he oversees; about half of them broke off their stay early or canceled completely.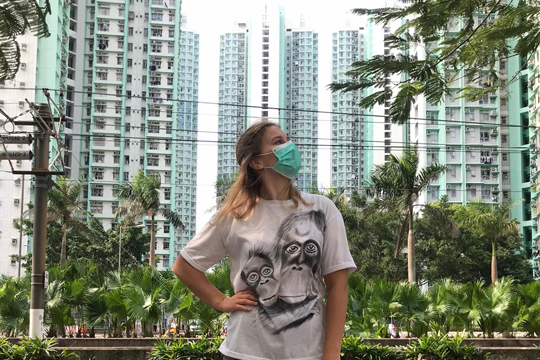 Wearing a protective mask is now the social norm in Hong Kong, says Kim Witetzek. Photo: Kim Witetzek
Attendance via online courses
Among those who are still abroad is Kim Witetzek. She is taking her fourth subject semester of a Master's degree in Molecular Medicine. Since the end of August 2019 she has been in the Chinese special administrative zone, Hong Kong, and wants to complete her semester abroad as planned – despite political protests and coronavirus. "I'm really happy that the University of Freiburg through the International Office has allowed me the freedom to decide for myself whether I want to stay here or come home," says Witetzek. She decided to stay, although in the meantime the situation in Hong Kong had become very intense. "With the relative proximity to the original source of the virus in Wuhan, China, it was difficult to guess the effects and the rate of infection," she explains. All the same, the rate of cases has so far remained comparatively low and the health system in Hong Kong is very good, so if she were infected she would receive good care.
She thinks she took the right decision with regard to her studies, "There are attendance times at the University of Hong Kong, because the tutorial and lectures now take place online at the original planned time. I have to be logged in and interactively present," she explains. If she wanted to continue the courses while based in Germany, the time difference would mean she would have to be awake between two and ten in the morning. It seems likely that Witetzek will be able to complete her semester abroad as planned. This is because given the increased protests during the last semester, the university had already developed strategies to hold examinations online as well. However it is unclear whether she will then be able to fly back to Germany come mid-June: "It's absolutely impossible to plan it at present."
Judith Burggrabe