Digitalization for first-year students
A new app from the University of Freiburg helps first-year students get a jumpstart on their university experience
Freiburg, Sep 30, 2019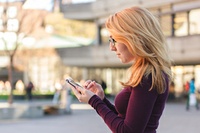 Starting in the winter term 2019/2020, the Student Service Center (ZSB) will be publishing an app called "Studienstart – Uni Freiburg" (First-Years at the University of Freiburg) to support first-year students from the very beginning. The app contains a multitude of helpful information and tips, allowing the user, for instance, to plan events for orientation week or to create check lists.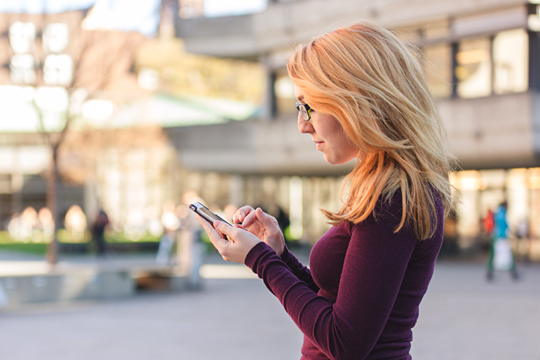 Where am I going? If you don't know your way around the University of Freiburg campus yet, you can use the app to get around. Photo: Sandra Meyndt
"Which events should I attend during orientation week? What do I have to get done before classes start? How do I find the right contact person for the questions I have?" Starting university is an exciting time, filled with a zillion questions. To make it easier for students to get started, the ZSB of the University of Freiburg has developed an app. The application "Studienstart - Uni Freiburg" (First-Years at the University of Freiburg) can be downloaded free of charge from the Google and Apple app stores by first-year students and all interested parties.
Changes in real-time
"The central tool is the organization of orientation week," explains Dr. Alexandra Rüdell, who is responsible for coordinating the app development. More than 350 interdisciplinary and subject-specific events are listed in the application. After downloading, users select their degree program in their profile and the events relevant to them are displayed. They can also activate the "international students" function, which gives them a choice of additional courses. Users then compile their own personal program for orientation week.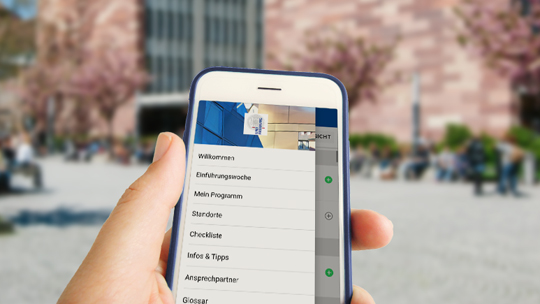 The app compiles all relevant information in one place. Photo: Student Service Center
Navigation to the respective venues is also possible with the app. In addition, it offers a checklist, information and tips on starting your studies, a glossary, telephone numbers and e-mail addresses of the student advisory service and other important contact points. The application is available in German and English. Another advantage is that all data can be updated live. If, for example, there is a change in a certain program, those responsible can alter it directly.
An offline version already exists
The ZSB has been publishing the brochure "Wegweiser zum Studienstart" (A Guide for First-Year Students) for some time now, which contains a lot of similar information. "We have noticed that it is clearer for students to see all relevant content in one application," explains Rüdell. The first feedback on the app has been positive: "The new students think it's great to have the app and are grateful that they have something on hand from the start."
Lara Wehler

Download the app

The application "Studienstart – Uni Freiburg" (First-Years at the University of Freiburg) is available for download at no charge for iOS and Android devices.

The Student Service Center welcomes any and all feedback about the app at
osa@zv.uni-freiburg.de