Blogging Against the Cliche of Unemployability
An online guide shows job prospects to humanities students
Freiburg, Feb 04, 2021
The feeling usually comes at some point when you are studying. Like a cold draft from an open window, it suddenly occurs together with the questions: What am I actually studying this for? What opportunities will I have with a humanities degree? Will there be a job for me at all? An online project aims to offer help.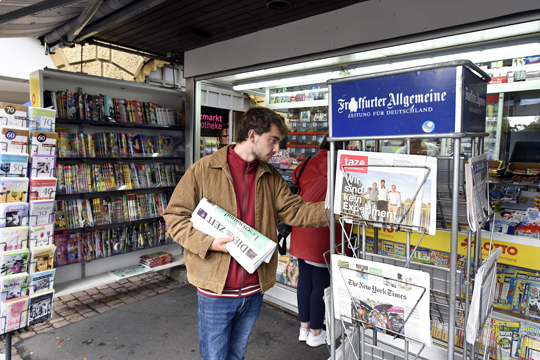 What the Papers Say: working on newspaper and magazine editorial teams is a popular career for humanities graduates. Photo: Thomas Kunz 
Ina Kuhn and Julia Dornhöfer, research assistants at the Institute of Cultural Anthropology and European Ethnology of the University of Freiburg, know that sense of insecurity in relation to job prospects. And they know that it will at some point grip humanities students who are not trained for a specific career. Together they run the online project Blog the Job. "We want it to reveal the job prospects for cultural studies and cultural anthropology graduates," says Kuhn, "and to do so in a format that reaches students and encourages discussion." In the 2018 summer semester, with the help of students from the institution, she launched the blog as a project based on the Digital Communication and Job Prospects practical class.
Tips and Essays
From the very first article they broke with the cliche of the humanities being 'Micky Mouse' studies that only qualify people to drive taxis. In an interview, an auditor explained why companies need the expertise and interdisciplinary social skills of humanities graduates if they want to be successful: "They are trained in recognizing the complexity of problem situations and developing suitable solutions." It's all about soft skills, team spirit, emotional intelligence, strong communication skills and creativity.
Today there are all of 80 posts in the blog. They deal with fundamental questions of career orientation, experiences on Erasmus semesters, with internships, volunteering and sidelines, but also with introductions to what it's like working in editorial offices, museums, press offices, cultural centers or at film festivals. And the blog doesn't just offer tips on finding a job or applications, it also gives authors the space to present essays, for example about gender politics and social injustice.
This entertaining blend gives platform users the sense of browsing a well-made online magazine, rather than clicking through a careers guide. This isn't an accident, because the project aims to expand horizons – not just those of users but also of the students who produce the blog in the class. "Through learning by doing they can learn the principles of blogging here, or how to use Wordpress or work in an editorial team," says Julia Dornhöfer. "When you're hunting for a job this can in turn be a good credential."
Guest articles are welcome
Its concept makes 'Blog the Job' one of very few sustainable projects of this kind in the German higher education landscape. After successfully establishing the portal, which was funded from the student suggestions budget, Kuhn and Dornhöfer now want to work on expanding its reach and advertise for active helpers. "We're open to guest articles," says Dornhöfer – the more the merrier. "If we show Cultural Anthropology and European Ethnology students the wide variety of their job prospects, we also strengthen our specialism."


Dietrich Roeschmann