"Age is not an argument"
Freiburg student Simon Sombart is the city's youngest councilor. He wants his generation to be heard.
Freiburg, Jul 26, 2019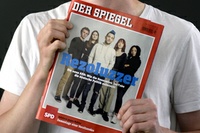 Photo: Thomas Kunz
Simon Sumbert is in the fourth semester of his degree in Political Science and Political Economy at the University of Freiburg. In May 2019 he became the youngest member of the Freiburg city council, where he represents the voters' association Junges Freiburg e. V. Kristin Schwarz spoke with the 21-year-old about his goals for the next five years - and how to manage an unpaid political office with full-time study.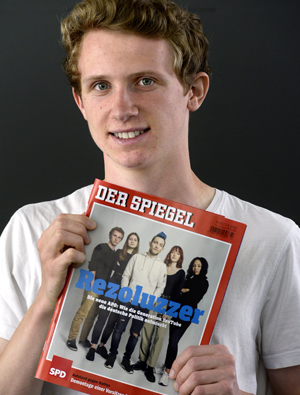 Simon Sumbert and the "Rezolutionaries": Der Spiegel magazine dedicated a front cover to the young generation which is criticizing outmoded political structures. Photo: Thomas Kunz
Mr. Sumbert, congratulations on taking a place on the Freiburg city council. How did you come to enter local government politics?
Simon Sumbert: I have always been interested in politics. So I watched the campaign for the last mayoral election in Freiburg very closely and I found that, in my view, too little work was done on the issues. Instead, false claims kept circulating. That motivated me to become active myself. So I looked at the youth organizations of a number of parties and I felt I had the most in common with the Junges Freiburg voters' association.
What accents would you like to set as a council member over the next five years?
My focus is on representing the interests of young people. Firstly, that means raising awareness in the city's administration to get young people more involved. I think it's important to include the interests of young people in city projects from the very start - not to tack them on at the end. That's just window-dressing. Secondly, I aim to strengthen Freiburg's subculture. And I will work to expand digitalization and to make more housing available. With a view to the future, this is about reinforcing Freiburg's social and environmental sustainability. Particularly because the city is lagging far behind in the implementation of the goals it has set itself.
You are 21 years old and represent a voters' association which is primarily interested in the issues of your generation. At the same time, more and more young people across the country are making ever-louder demands to policymakers. What do you think of this development?
I think it's positive that so many teens and young adults are taking to the streets for various issues. I find that motivating. Nevertheless, policymakers need to listen more closely to young people. Democracy means that all votes are equal. Even if, until now, older men have had more of a say. The current youth movement is succeeding in breaking that pattern. So I hope that this movement can serve as a good example to other, politically underrepresented groups as well.
Experienced string-pullers on the one side, restive youth on the other - Is today's politics first and foremost a generational conflict?
Certainly there are lines of conflict between the generations. But I wouldn't want to over-generalize. It is more important to me to talk openly to find a common denominator and to work towards clarity and understanding. We are not in fundamental opposition to older generations like the movement of 1968 was. And age is not an argument; what's important are the political results.
Along with your work as a council member, you are also studying politics and macroeconomics. How would you like to do justice to both tasks?
It's a balancing act as far as time goes. I have cut back my study load since the election and reduced the hours at my part-time job. At the moment I'm studying in the mornings, in the afternoons I use the time I've gained by reading up on political issues, holding party talks and expanding my network. When the city council goes into session in September, I plan to be back studying full-time.
Still, it's going to be a lot of work. What drives you to stick at it?
As a member of the city council, I will be taking my ideas for Freiburg's future right into the creation process. That means I can influence how the city will look in five years and play an active role in big projects like the city tunnel. On top of that, I've lived my whole life in Freiburg and I'm looking forward to getting to know the city council from a different perspective.