The 2022/23 Academic Year has begun
Rector Prof. Dr. Kerstin Krieglstein sets the tone about sustainability and the Sustainable University during the ceremony
Freiburg, Oct 19, 2022
The 2022/2023 academic year has begun. The traditional opening ceremony on the first Wednesday after the start of the semester on site and in full attendance was combined with a hybrid format, which had already been popular in the last two years. Thus, all interested members and friends of the University of Freiburg could participate in the start of the new semester and the awards of this year's laureates. In a keynote speech, Prof. Dr. Dipesh Chakrabarty spoke about "The climate crises in higher education." The environmental scientist from the University of Chicago in the US researches and publishes on the social and cultural consequences of climate change.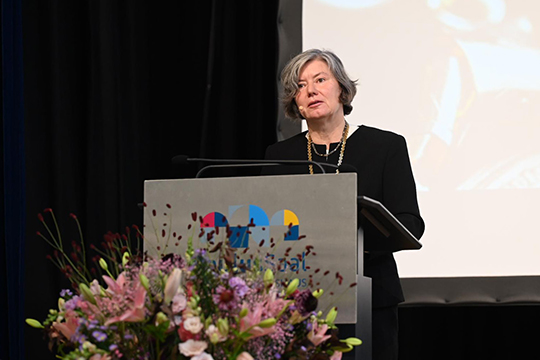 Photo: Sandra Meyndt
In her speech, Rector Prof. Dr. Kerstin Krieglstein focused on the climate crisis. Russia's war of aggression against Ukraine has brought entirely new and unimagined challenges that also keep universities on their toes, she said. The energy crisis and impending gas shortage caused by the war seem to dominate as a topic: "An unjustifiable war of aggression in the middle of Europe means that the economical use of resources is no longer just a theoretical demand of a few people in the wake of climate change, but must become concrete in joint action for all people," explains Prof. Dr. Kerstin Krieglstein, Rector at the University of Freiburg. "After all, the economical use of resources, sustainable development, climate and environmental protection are a burning core issue of our time, for which, however, only little time remains. The climate crisis demands decisive and joint action right now."
Carrying joint responsibility   
Society bears responsibility for climate change, Krieglstein emphasized, and it affects not only the environment, but also every human being, their health and their future. The rector explains that universities have to assume a special responsibility due to their central tasks of research, teaching and transfer to society. This is also the case at the University of Freiburg, where sustainable development, climate and environmental protection play a major role in research and teaching, not only since February of this year and not only with the government's call for saving energy. At the University administration level, this topic has been reinforced by the Vice-President for Internationalization and Sustainability. In the area of sustainability, research is being conducted at the Faculty of Environment and Natural Resources and at the Faculty of Engineering, both in the fundamentals and with an application-oriented focus. "We have to walk this path together," says Krieglstein, "and take responsibility together too."
The University of Freiburg has awarded prizes for achievements in science and teaching, social commitment and start-up ideas: Young Scientist Award, University Teaching Award, Special Award for Outstanding Student Commitment, Bertha Ottenstein Award and Pfiffikus Award. The award winners were honored by the Rector Prof. Dr. Kerstin Krieglstein during the opening of the Academic Year.