Rising Stars Academy
Junior researchers from around the world are eligible to apply for a joint project with Freiburg scientists
Freiburg, Jun 16, 2021
The Freiburg-based "Rising Stars Academy" seeks to strengthen the scientific exchange between researchers from Freiburg and young international researchers. Young researchers can now apply to work in a team with scientists led by so-called Host Principal Investigators from the University of Freiburg. Prof. Dr. Birgit Esser from the Institute of Organic Chemistry explains what they offer in an interview with Pascal Lienhard. She is Principal Investigator at Living, Adaptive and Energy-autonomous Materials Systems (livMatS).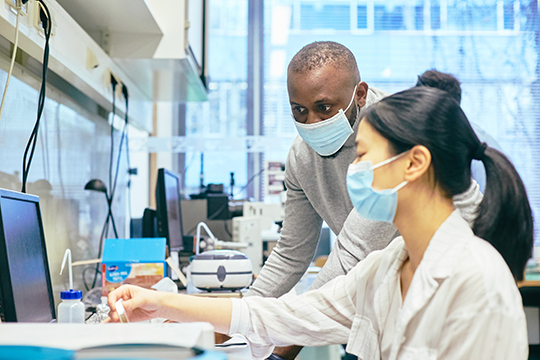 Application as "Rising Star": Young researchers can work on projects together with scientists from the University of Freiburg. Photo: Harald Neumann
Ms. Esser, what is the Host Principal Investigator's main task?
Birgit Esser: We offer international young researchers the opportunity to pursue attractive scientific projects or questions within a cooperative framework. For this purpose, we provide not only the research environment, but also our professional experience. The extent to which we ourselves are involved in the project depends on the level of experience of the respective participating researchers. We also provide support in the publishing the results.
Who is most apt to apply?

In general, the program is suitable for anyone who wants to gain international experience at a prestigious university in a short period of time - first digitally, then later on site. Because here in Freiburg they can realize their own research project. They gain new experience and can also build up a network. An attractive idea for a project makes for a promising, successful application. Of course, it is also helpful if you have your own initial publications. Initial successes should therefore be visible, and the applicant should have demonstrated determination.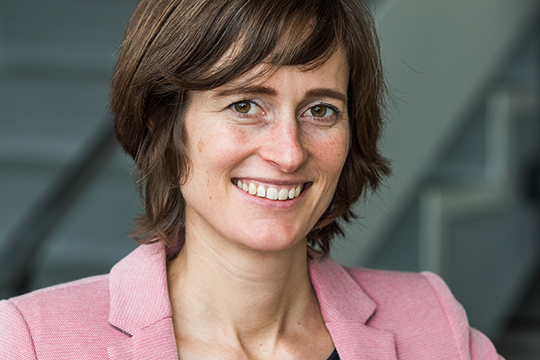 Organic synthesis and battery research: Birgit Esser is Professor of Molecular and Organic Functional Materials. She will supervise a project of the "Rising Stars Academy" as Host Principal Investigator. Photo: Klaus Polkowski
In which subject will you yourself act as Host Principal Investigator?
I am a professor for Molecular / Organic Functional Materials. My main focus is on organic synthesis and battery research. Researchers who already have experience in this field and want to expand it are in good hands in my team. In addition, a well-equipped laboratory is available for experiments.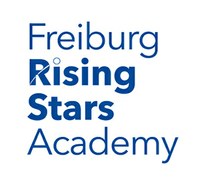 The "Rising Stars Academy" is funded by the German Research Foundation (DFG) as part of the "International Research Marketing" ideas competition. Young researchers from around the world can apply until July 29, 2021. The selected "Rising Stars" will then form teams with young researchers from Freiburg in the areas of Biological Signaling Research and Functional and Bioinspired Materials. The Clusters of Excellence Living, Adaptive and Energy-autonomous Materials Systems (livMatS) and CIBSS - Centre for Integrative Biological Signalling Studies provide significant support for the "Rising Stars Academy." The Freiburg Fraunhofer Institutes via the Sustainability Center founded jointly with the University and the Max Planck Institute of Immunobiology and Epigenetics are also involved. The Freiburg Rising Stars Academy is funded by the German Federal Ministry of Education and Research as part of the "Research in Germany" initiative.

The teams will discuss and work on interdisciplinary scientific questions, initially through digital communication channels and then at the "Rising Stars Conference," which is scheduled to take place in Freiburg from March 21 to 25, 2022, in compliance with all infection protection measures required at the time. Experienced Freiburg researchers will supervise the groups as team leaders. At the end of the conference, the teams' projects and results will be evaluated. The best qualified "Rising Stars" will then enter the "Rising Stars in Residence" program. From there, they will return to Freiburg in the summer and fall of 2022 for a longer research stay.