Mangold's a veg
A visit to the Münstermarkt farmers' market becomes a German lesson for foreign students
Freiburg, Aug 24, 2017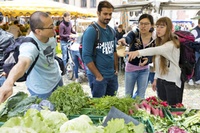 Foto: Jürgen Gocke
The colorful stems with the large leaves radiate canary yellow, crimson and ruby. "What's that?" asks one of the group, who comes from India. "Mangold!" replies the vendor. "Mango?" they echo. "Nowt like! Mango's fruit, 'at's a veg!" declares the expert. A typical scene for this morning, which recalls the 'Learning by Doing' method. You learn what you are doing by doing it. The 'Walking Dialogues' are very similar: foreign students go out and experience real life with their German tutors, in order to test out their language skills in everyday scenarios.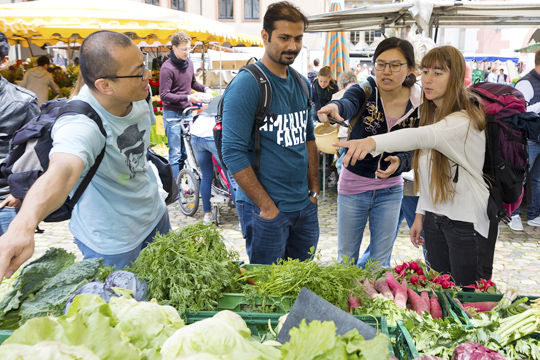 Radishes, raspberries, savoy cabbage: it's easier to pick up vocabulary in real life than in a lesson. Photo: Jürgen Gocke
The idea for this German lesson came from Yani Guo from the Studierendenwerk Freiburg-Schwarzwald and team members Katharina Knop, Nicole Nicklas and Marielle Raih, all students with a background in teaching. Before each upcoming session they simply provide the participants with appropriate vocabulary in a classic lesson, to prepare them for the Language Café walkabout.
Today, a hectic Saturday in July, a Freiburg classic is on the schedule: shopping at the Münsterplatz farmers' market. "We'll go around the market once," Nicklas explains the procedure. "And then we'll have a bratwurst or – for the vegetarians – tofu." "You have tofu here?" asks Yang Peng, a twenty-one year old from China. "Can you barbeque tofu?" Peals of laughter. "Well, that's what the Germans are always doing," Yang persists. And straight away we have come to a socio-cultural question. Germany, country of eternal barbecuers? Nicole – everyone is on first name terms here – meanwhile presses on blithely, pointing out gooseberries, rhubarb, blackcurrant.
Vocabulary training on the hoof
Jijo George and Swertin Paul are IT students from India, and have been in Freiburg since autumn 2016. On the tour, they try things out and explain things alternately. Grab a bite to eat at the baker's stall, then to the cheese stall. "My housemate always eats blue cheese," George reports in still halting German on his everyday life. Talking about dairy produce at a cake stall Nicklas explains, "Sour cream, that's a kind of cream. Sow-er cream," she pronounces carefully and deliberately. Peng repeats after her, "Sow ... sow cream." He has lived in Freiburg for almost four years, and as a philosopher he is very highly skilled in the field of languages (Heidegger!). As they pass the stalls selling lettuce and other salad vegetables, Nicklas explains the expression 'Da hast du den Salat!' – 'What did I tell you?' This makes Peng think of something: "Kabelsalat!" – cable spaghetti. However he didn't learn it on the German course but on the Internet.
Tofu dressed as bratwurst
The summery range on offer at the market bewitches the senses. Radishes are a welcoming deep red, everywhere berries beckon in shades of red, pink, purple and blue, the courgettes glow yellow. Yellow courgettes? "Normally they're always green," says one. His gaze falls on a box of plump cherries. "I first ate cherries in Germany," says Peng, "we don't have them at home." "We do," responds Guo. Both can talk in Mandarin. However Guo from the Studierendenwerk cheerfully reminds his compatriot, "In German!"
But when things get too difficult in German, the three Indians, Paul, Jijo and Raghu and Jibran from Pakistan can switch to their mother tongues. "Hindi and Urdu are similar, but only when speaking," explains Jibran. The four young men from South Asia cook almost daily, and therefore are very familiar with foods and their preparation. Gradually, people get hungry. Time for a snack. One tries a 'lange Rote', the traditional Freiburg wurst, another a veal sausage. Raghu, whose name is pronounced like 'ragout' in French, has found a vegetarian snack: tofu dressed as bratwurst. With a lot of yellowy-orange gleaming spices. "Aaah!" he cries out when he tries it, "very hot!" "Really?" the group responds, surprised. "No," he plays it down with a smile. He was just imitating the typical German reaction to spicy food of course. Everyone laughs. And all look forward to the next session; regular events begin again in the 2017/18 winter semester.
Alexander Ochs
Walking Dialogues
Gathering language practice in everyday life – whether on a cycle tour, visiting the Mundenhof zoo or at the Freiburg Museums Night: this is the idea of the Walking Dialogues, an event organized by the Studierendenwerk Freiburg-Schwarzwald. Between semesters they take place about once a month. The free offer is designed for students at Freiburg's universities and colleges. Please register if you are interested.

e-mail: guo@swfr.de
www.swfr.de