Looking Back and Looking Forward
Rector Hans-Jochen Schiewer offers his wishes for a happy holiday and a successful New Year in this video message
Freiburg, Dec 20, 2017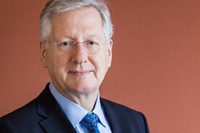 Photo: Silvia Wolf
In 2017, the University of Freiburg, together with its Upper Rhine partners in the consortium Eucor - The European Campus, set a signal to support European integration and have campaigned for diversity, openness and intellectual curiosity. Students, guest researchers and staff members from nearly 150 countries contributed jointly to make it a very successful year. In his Christmas greeting, Rector Prof. Dr. Hans-Jochen Schiewer reports on the year ending and provides perspective on the coming year, 2018. He wishes everyone at the University as well as the alumnae and alumni a peaceful holiday season and a happy New Year.
71dfce8da2f203fcdeefebf59a4862a5

The annual report for the 2016/2017 academic year provides extensive information about the current developments at the University of Freiburg.