"It was a tremendous gift"
Hans-Jochen Schiewer looks back on his two periods as rector of the University of Freiburg
Freiburg, Sep 21, 2020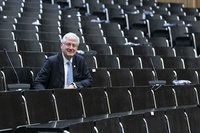 For twelve years now Prof. Dr. Hans-Jochen Schiewer has been at the helm of the University of Freiburg, but on 1 October 2020 he takes up the Chair of Medieval German Studies again. In an interview with Nicolas Scherger he reports on the importance of a vision for the entire university, the special Freiburg feeling of belonging together and the duty to take on social responsibilities.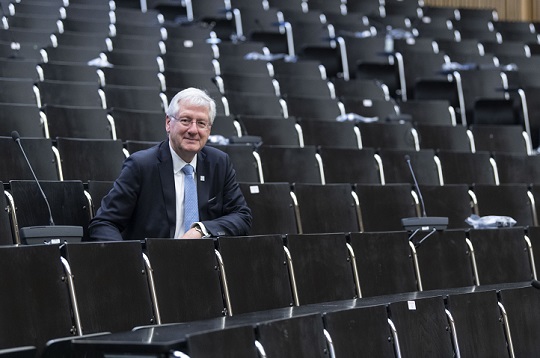 Hans-Jochen Schiewer encourages every member of the University of Freiburg to take on social responsibilities, "Every discipline must ask itself how it can contribute to work on the great challenges of our time." Photo: Patrick Seeger
Mr. Schiewer, as an expert in Medieval Studies would you say your period in office had elements of a quest?
Hans-Jochen Schiewer: A quest consists of foreseeable and surprising challenges. That corresponds with what a rector experiences. If it goes successfully, a quest ends in a great celebration at the court of King Arthur, and recounting the adventures undergone provides welcome entertainment. I can imagine turning the narrative of my quest as rector into a tale that is yet to be recounted.
At the start of your quest you were confronted with completely different challenges to today – for instance with controversy about the Bologna Process. How did you cope with the rapidly changing issues and many fleeting trends?
It's important to have a vision of how a rector wants a university to develop. One of the great strengths of our university is its team spirit: the willingness to work together across disciplinary and faculty boundaries and solve scientific questions communally. I had already experienced this as a professor and wanted to continue it in office as rector, so as to bring this strength into the development of the university. You mustn't lose sight of the great objective, and short-lived trends, debates and issues have to fit in to this framework.
Where would you say this strength was particularly successfully realized?
With the establishment of the Freiburg Institute for Advanced Studies, which is all about this team spirit. With the Liberal Arts and Sciences degree program which brings this principle to teaching. Both make our university stand alone. Then there is the cooperation with other scientific institutions, such as the traditional cooperation with the Max Planck Society, the almost exemplary cooperation with the Fraunhofer Society and cooperation with other universities in the area. Above all, the bridges we have built with strong partners in France and in Switzerland is important to me.
You backed the idea of a European Campus long before European universities became a major political issue. Why is that?
I'm a committed European, it comes from my Berlin roots. And with its location in the Upper Rhine region, Freiburg has always represented Europe in a nutshell to me. My idea was to conduct an experiment in how we could realize and experience teaching, research, sharing knowledge and social responsibility across borders with our partners in Basel, Karlsruhe, Mulhouse and Strasbourg – and that we would gain strength from our different cultural traditions. You mustn't be starry-eyed about it, it's difficult. But it also brings many moments of joy with it. Our approach was the model for the initiative to create European universities, suddenly the university became the bearer of the European idea – and we were there from the start. I think that's great.
You were the chair of the Baden-Württemberg Rectors' Conference, President of Eucor – The European Campus and chair of the German U15 association. What motivated you to become politically active?
Naturally you have to do your own work first of all. But a rector mainly carries out strategic work by setting the guidelines for development – in agreement with the entire team at the rectorate – and strategic work is always political. The rector has the responsibility of maintaining a presence in relation to academic policy and being more of an adviser than a someone seeking advice. So he can influence the basic framework in which the university realizes its strategy.
One politically important issue is the funding of young researchers. You have been very involved on behalf of scientific talent and established Tenure Track professorships in Freiburg. Would you advise taking up a career in research?
I myself have experienced the insecurity associated with academic careers. It's never a risk-free path. But science also means freedom, self-determination and personal fulfillment. If you are passionate about science, you are fortunately able to turn your passion into a career. But you have to set the right course for a successful career at the earliest possible stage. So I am convinced that it is crucial for careers – particularly those of women in science – to open up clear prospects using Tenure Track professorships. We want to establish this path to a professorship in our university's culture.
The university is registering great successes, especially with funding formats for young researchers, has an outstanding track record, routinely appears in the top ten nationally in respected rankings – but it hasn't been awarded the title of 'University of Excellence'. How much does this disappoint you?
I am personally disappointed that we have not achieved the goal of being supported as one of the Universities of Excellence. But despite the controversy about the sense or otherwise of this competition at our university, everyone who was involved felt it was a unique experience that brought us together. We could have earned the award for this service and this team spirit. But it wasn't to be – nevertheless this shared effort has taken us forward. In the past ten years the university has consistently improved its performance data, and we are proceeding on a level with the Universities of Excellence even without the related funding. We should value this.
You've also been in demand as a crisis manager. What lessons have you drawn from the revelations about historic doping in Freiburg's sports medicine?
Put simply, I would rather have been an investigative journalist than rector of this university in that case. Because for the rector the legal framework is the measure of all things. I personally did everything within my powers within this framework to uncover things – but the framework is still there. I am very proud that we are the only academic institution in Germany to have thoroughly reviewed the involvement of sports medicine and publicly documented it. At the same time I am deeply disappointed that much may only be revealed publicly in many years, and therefore the investigations could not go beyond a certain point.
After twelve years as rector, what have you learned from your job?
As a professor of Medieval literature and language, when I took office my knowledge of the entire university was not as profound as today. It was a tremendous gift as rector to get to know all the sciences that we pursue at our university and to shape this institution. It has also become clear to me that everyone who researches, teaches and studies here has the obligation to take on social responsibilities. Every discipline must ask itself how it contributes to work on the great challenges of our time and how they can bring important issues into public discussion.
What moment will you remember with particular fondness?
Very personally, one of the happiest moments was my re-election in 2014 and the start of a second period in office with a new rectorate. And a formative experience which eventually resulted in a huge feeling of happiness was the cooperation with the two Cluster teams in the framework of the Excellence Strategy. We worked together extremely hard, developed a team spirit, a great sense of closeness. It was an incredible experience at that time when it came down to delivering the best performance and successfully raising funding for both Clusters.
And what experience would you rather not have had?
None!
What themes do you want to look at in future in Medieval Studies?
A guiding principle for me will be social responsibility. As a Medieval expert who looks at the spiritual literature of the Middle Ages, I can also contribute something to issues such as religion-based politics, social cohesion, or fear in the face of health threats. I am also hoping to succeed in realizing my pet project: a book titled 'Bestsellers in the Middle Ages' – that is, Arthurian romances, encyclopedias, legends of the saints and so on. To tackle this whole spectrum making it an interesting read for many would be a pleasure to me.
What do you wish for your University of Freiburg in the future?
I already mentioned it: this feeling of belonging together, that you can stand up together for your university regardless of status group, cooperate regardless of subject area, and achieve something. We've experienced this strength. We should remember this and draw on it for our research, teaching and social responsibility, then I won't worry about the future of this university.