Introducing the Mittelbau Initiative (Mid-Level Initiative)
Lea von Berg and Paul Meuleneers on the reasons and goals behind the interdisciplinary initiative
Freiburg, Sep 05, 2022
Last year, a lively debate about working conditions for the University's mid-level staff developed under the hashtag #IchBinHanna. At the University of Freiburg, an interdisciplinary mid-level staff initiative was founded in November 2021. Lea von Berg, 28, is doing her doctorate as a scholarship recipient in Medieval German Language and Literature with a focus on two chronicles of the Clarissan Monastery in Nuremberg. She is a co-founder of the Mittelbau Initiative (Mid-Level Initiative) at the University of Freiburg. Paul Meuleneers, 27, is also involved in it. He is an academic staff member of a DFG-funded project on gender linguistics at the University of Freiburg and is doing his doctorate on this topic. Thomas Goebel spoke with both of them about the goals and wishes of the interdisciplinary initiative.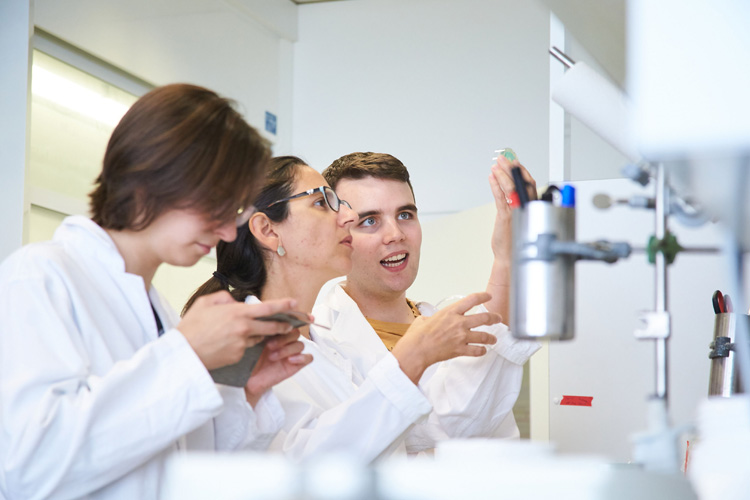 At the University of Freiburg, an interdisciplinary mid-level staff initiative was founded in November 2021. Photo: Harald Neumann

Ms. von Berg, Mr. Meuleneers, The nationwide #IchBinHanna movement has triggered many discussions about the working conditions of early-career academics. Just under a year ago, a mid-level staff initiative was also founded at the University of Freiburg, in which you are involved. What do you seek to achieve with it?
Meuleneers: The mid-level staff at a university as large as Freiburg is widely scattered across many institutes and faculties, and we would like to promote networking among ourselves and exchange about our frequently difficult working conditions. What affects almost all of us in particular is the aspect of time limits. We have to achieve certain goals in legally prescribed times, for example, to finish a doctoral thesis. However, from our point of view, these targets are often unrealistic. In addition, we also have very few concrete prospects of finding a permanent position thereafter.
von Berg: Behind this is the federal government's Academic Fixed-Term Contract Act, which regulates fixed-term employment in academia. There should be more information and debate about this issue. Unfortunately, even students know very little about the working conditions for mid-level staff members. In our view, teaching in particular can often only be done well if you work considerably more than the employment contract provides for.
What do you think could be done to change the situation?
Meuleneers: Basically, we agree with the demands that have arisen in the #IchBinHanna debate: The Academic Fixed-Term Contract Act should be changed. For instance, there is a need for more permanent positions for which our qualifications are sufficient. We are aware that some things cannot be changed easily because they are legal requirements for which policymakers are responsible. At the same time, the universities have a certain amount of leeway, which we believe they should leverage. At the University of Freiburg directly, we are concerned, among other things, with raising awareness of our situation and how it can be improved even within the current legal framework.
How exactly is it done?
von Berg: A university-wide strategy process is currently underway at the University. In the working groups, including those entitled "Research" and "Academic Careers, Gender and Diversity," different status groups are coming together, and we are also taking part. It is very important for us to be involved in the conversation and to be able to contribute our view of employment relationships for mid-level staff. We are drawing attention to our difficulties, suggest improvements and discuss them. For example, good performance should also be rewarded by not having to slog through each semester or run the risk of exploiting oneself. Structures with strong dependencies should also be changed, among other things because they are susceptible to the abuse of power. We would like to draw even more attention to these issues and support a change in mindset. The strategy process can actually be very helpful for this.
The Mid-Level Initiative also hosts mental health walks on a regular basis. What are they about?
von Berg: A colleague of ours became familiar with mental health walks during her studies in Oxford based on the idea of getting together with people in comparable situations in order to counteract stress by taking walks together in nature. Those walks were especially popular during the corona-related lockdown period. We had already been in contact with Jasmin Anders, the representative for disabled persons at the University of Freiburg, and then organized the campaign together with her and the staff council.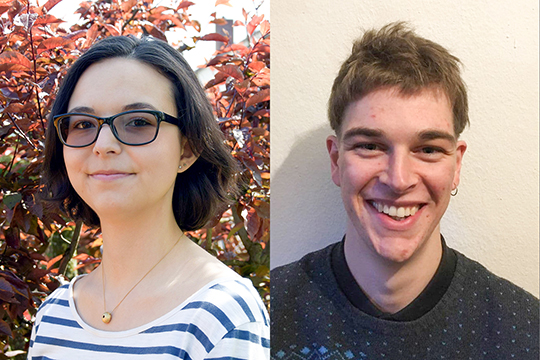 Lea von Berg and Paul Meuleneers. Photo: provided.

Why do you think such a campaign makes sense, especially for people from the University's mid-level staff?
von Berg: For the reasons mentioned, we often work under very specific pressures and have a correspondingly strong need for balance. In addition, the meetings are intended to serve networking, although of course not every person has to deal with university politics.
How did your initiative come about in the first place?
Meuleneers: The impetus came from an event organized by the Prorectorate for University Culture in November 2021 in the context of the nationwide discussions. Lea von Berg and Anna Sator ensured that doctoral students and mid-level staff members connected and coordinated in advance. Together, we then decided to make this work permanent, and the founding meeting of the initiative took place at the end of November 2021.
What have you been doing specifically since then?
von Berg: We meet every three weeks in plenary session and we have two active working groups, one on "Psychosocial Aspects and Diversity" and one on "Leadership Culture and Abuse of Power." We are constantly networking, talking to the representatives of disabled persons, to people from the staff council, to trade unions and other interest groups. Right now, we are organizing a Mental Health Day with lectures and a panel discussion, among other things, which will take place on November 9, 2022. We also report back to each other from the committees; I am the doctoral student representative on the faculty council, so there are always topics that are relevant to us.
Meuleneers: One question that is not as easy to answer is who actually belongs to the mid-level staff, which is often not at all clear. Ultimately, our goal is to bring together mid-level employees at the university and provide them with a space to discuss the issues that affect them.
Is it still possible to join you?
von Berg: Absolutely! You can always find the current date of our plenary date on our Website, which follows with a meet-up at our regulars' table in a pub. You can just drop by for both and see what we are up to.
Meuleneers: You can also subscribe to our mailing list via the Website.
von Berg: And we are very interested in having contact with other initiatives and groups from the mid-level staff that exist within the faculties, for example. We are connected with some of them, but we probably don't know about all of them.
If you had one specific wish, what would it be?
Meuleneers: I think what Lea said earlier is fitting: We would like to see a change in mindset. meaning that new perspectives from the various status groups develop in the collaboration. That's doable and a lot can come out of that. I think we in the initiative all enjoy working in academia, otherwise we wouldn't be doing it at all. But the difficult conditions under which we sometimes work have to change.
Contact: www.mittelbau-initiative-freiburg.de
Mental Health Walks will continue to take place in September and October on the second Sunday of each month. Next date: September 11, 2022, 11 a.m., meeting point UB (Rotteckring).
Mental Health Day, Nov. 9, 2022, 9 a.m. to 6 p.m., auditorium and Prometheus Hall, (KG I), with lectures, interactive activities, information booths and a panel discussion.