In the Top Ten in QS Rankings
The University of Freiburg ranks 9th in Germany thanks to its outstanding academic reputation and high number of citations
Freiburg, Jun 09, 2021
According to the latest QS World University Rankings 2022, the University of Freiburg ranks 9th in Germany and 172nd among the 1,000 best universities worldwide.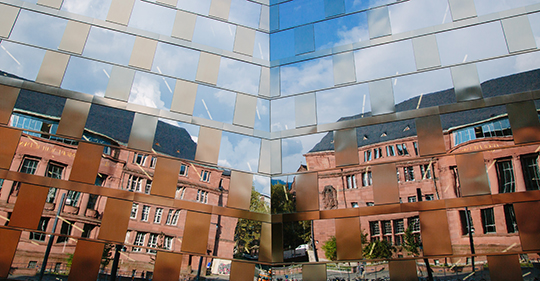 Foto: Sandra Meyndt
The British company Quacquarelli Symonds (QS) and its partner the academic publisher Elsevier have now issued their annual rankings of universities. The QS World University Rankings look at more than 5,500 universities, ranking the best 1,000. The University of Freiburg ranks 172nd worldwide. This rise of three places since last year was primarily due to the University's excellent academic reputation and high number of citations. In Germany, the University of Freiburg ranks 9th overall and 5th among all German comprehensive universities.
Six indicators
The universities are ranked according to six indicators in research, academics, and international teaching faculty and students. These indicators are academic reputation (counts for 40 percent of the ranking), employment reputation (10 percent), faculty/student ratio (20 percent), citations per faculty member (20 percent), international faculty member ratio (5 percent) and international student ratio (5 percent). The citations analysis is based on Elsevier's Scopus database. The other data are provided by the universities themselves.
In the QS World University Rankings by Subject 2021, which were also released in March 2021, the University of Freiburg ranked 6th place in the subjects Life Sciences & Medicine and Arts & Humanities.