A Sage from the Saar
Economist Lars Feld is the chair of the advisory council that assesses macroeconomic development
Freiburg, Jul 16, 2020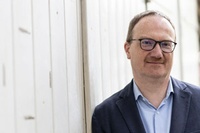 Photo: Patrick Seeger
Usually you might imagine a sage to look like Methuselah with a long white beard, but Lars Feld is nothing like that. The 53 year old professor of Economic Policy at the University of Freiburg and director of the Walter Eucken Institut gives a warm and open welcome to his office. One of the five 'economic sages', in mid-March 2020 Feld was elected as chair by his colleagues.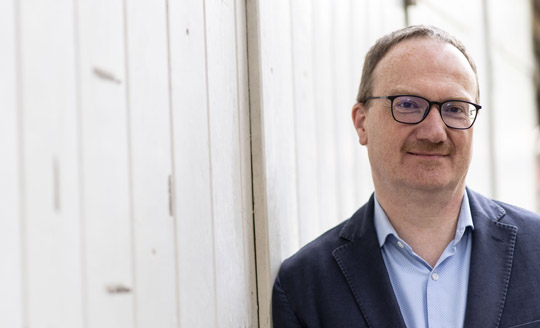 The corona crisis means there is an urgent demand for Lars Feld's advice. Since 2011 he has been on the Council of Economic Experts – and has now been chairing it for a few months. Photo: Patrick Seeger
"The press is to blame for the term 'economic sage'," explains Lars Feld. Although, who wants to deal with wordy titles such as 'member of the German Council of Economic Experts'? All the same it meant a lot to him when he was appointed to the body in 2011 on the proposal of the German government. The whole nation awaits the traditional annual report by the economic sages with bated breath.
It's easy to imagine the leading economist and political adviser – who is also a member of the German National Academy of Sciences Leopoldina – as a person of crucial importance to the German system, especially in these times of coronavirus. What about coronavirus bonds? "Emotions aren't good guiding principles," he warns in regard to taking on a shared liability for the sake of European solidarity. The state is giving out unimaginable amounts of money in order to mitigate the effects of the lockdown. What does he say to this, in view of his balanced-budget convictions? "We've contributed to the policy instruments for coping with such a crisis from the start," says Feld, who appears generally relaxed with reference to a secure regulatory framework.
Tall bookshelves but not a bookworm
By the time of the 2008 financial crisis, if not earlier, the-then adviser at the finance ministry had already learned what sums of money have to be wielded to calm the financial markets and prevent the economy from collapsing. Great weight is placed on his public statements. At first this didn't give Feld sleepless nights. "But sometimes I wake up at night now and am struck by the present momentum," he admits. What the economic sages do isn't reading tea leaves: their forecasts are based on calculable scenarios and models. Occasionally the economist draws on issues that arise in the consultation for his research.
Don't be deceived by the tall bookshelves and stacks of paper teetering to near ceiling height in Lars Feld's office though: he is no unworldly bookworm in an ivory tower. This is clear from his three sons, who he and his wife, a doctor, have brought up. And the party mood that struck him after completing his final school exams. Or his work as a care assistant on a geriatric ward and a closed psychiatric facility before and after his military duty. "That was tough!" The Saar too, where he was born in 1966, may have had a formative effect: a structurally-weak region with an ailing coal and steel industry and unemployment surging to 13.5 percent.
A certificate led to his vocation
Even as a teenager Feld sensed the connection between the concerns of the people and a weak economy. However he still had a long way to go to become an economic sage. He used his first semester at the University of Saarbrücken to have a taste of a variety of studies: English, German Literature, Political Science. But it was only when he took a certificate in Economics that he needed to study politics that light dawned. Lars Feld had found his calling. And at the same time the professors Olaf Sievert, a predecessor on the advisory council, and Werner Pommerehne, as two of his teachers who sowed the seed for his path in research and advice combining economics, law and politics.
Following periods at the universities of St. Gallen, Marburg and Heidelberg, since 2010 Feld has held the Chair of Economic Policy and the Economics of Order at Freiburg. His advice is sought by numerous bodies and committees. Lunch with ministers or the 'always well-prepared' Chancellor Merkel initially impressed the economic sage, he admits, but are now practically routine.
Lars Feld doesn't take the fact that Finance Minister Olaf Scholz and the SPD wanted to prevent him having a third period in office from next year personally. In the past he has criticized some political positions of the SPD and the unions such as the minimum wage as a 'wrong turn'. "We don't provide wish-fulfilling reports," says Feld. He insists on the independence of the advisory council and wants to see his work respected by politicians.
Anita Rüffer