Trees as environmental memory banks
Presentations and lab tours of the Chair of Forest Growth and Dendroecology from September 19-21, 2017
Freiburg, Sep 19, 2017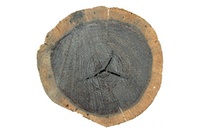 In celebration of the 125 anniversary of the International Union of Forest Research Organizations (IUFRO), an international forestry congress is taking place September 18-22, 2017 in Freiburg – with around 2,000 participants from 90 countries. Among other topics, the questions relating to climate change and its impact on forests will be addressed. In addition, the issue of growth rings will also be closely examined. The Chair of Forest Growth and Dendroecology at the University of Freiburg is offering a lecture series "The impacts of climate change on growth and productivity of managed and unmanaged forests" with a presentation by Prof. Dr. Heinrich Spiecker on "Dying Forests in the Black Forest – what has really happened over the past 40 years" along with a tour of the chair's growth ring lab. Visitors will learn what researchers can learn about a tree's life using techniques from growth ring research – such as how weather fluctuations impact a tree's growth and wood texture or how much carbon a tree stores.
What: Lecture series and lab visits


When:
Lecture series:
September 19, 2017, 3pm – 7:30pm

Lab visits:
September 20, 2017 and September 21, 2017, from 6pm – 7:30 pm both evenings


Where:
Lecture series:
Konzerthaus Freiburg, Room K2-4, Konrad-Adenauer-Platz 1, 79098 Freiburg

Lab visits:
Faculty of Environment and Natural Resources, inner courtyard/ground floor, Tennenbacherstraße 4, 79106 Freiburg


Members of the media are warmly invited to attend.


Host: Chair of Forest Growth and Dendroecology


Contact information: Prof. Dr. Heinrich Spiecker, Tel.: +49 (0) 172/7601528, and Dr. Hans-Peter Kahle Hans-Peter.Kahle@iww.uni-freiburg.de, Tel.: +49 (0) 761/203-3739


No registration is required.