Green City – Green Science
Open house in the research and teaching space at the airport campus on June 24, 2018
Freiburg, Jun 12, 2018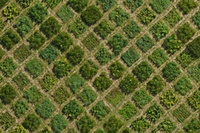 Photo: Teja Kattenborn
Research requires space. Especially researchers who examine natural processes from such fields as ecology, hydrology and forest science are dependent on outdoor facilities for their experiments. For this reason, examination areas were created on Freiburg airport's campus in the spring 2013 upon which questions such as biodiversity's role, the effects of climate change as well as sustainability of forest production systems are studied. A lot of experiments are done there. On the second day of the open house, researchers from the Faculties of Biology and Environment and Natural Resources at the University of Freiburg will provide a tour through the test facilities, introduce the measuring equipment used and will be available to answer questions about the experiments and their results. Homemade cakes and soft drinks will be offered.
What: Open house


When: June 24, 2018, 3pm to 5pm


Where:
The meeting point is at the entrance to the test areas, visible from afar by the white truck trailer with the university logo, about five minutes walk from the parking lot "Am Wolfswinkel" in the district Mooswald, toward the construction sites or buildings of the Faculty of Engineering.


The event is open to the general public.


Host: Faculty of Biology – Geobotany


Contact information:
Prof. Dr. Michael Scherer-Lorenzen, Tel. +49 (0) 761/203-5014;
Dr. Tobias Gebauer, Tel. +49 (0) 761/203-2617


The event is free of admission.


No registration is required.