Alumnus in the University council and donors' association
Andreas Barner casts a three-fold look at the University of Freiburg in his presentation on July 20, 2017
Freiburg, Jul 11, 2017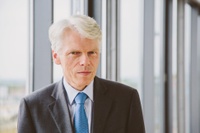 Andreas Barner. Foto: Sandra Meyndt
The University of Freiburg has a lot of plans in the next few years. Work on the next strategic and development plan for 2019-2023 has begun and the competitions "excellence strategy" and "junior development program" are well under way. What are the relevant issues and how do universities and their policies position themselves in relation to them? What is the University of Freiburg currently working on? The lecture and discussion series "On Research, Teaching and Career Paths – Future Perspectives at the University of Freiburg" will address these questions and more. On July 20, 2017 Prof. Dr. Dr. Andreas Barner will give a presentation in which he casts a three-fold look at the University of Freiburg: he is an alumnus at the University of Freiburg, chairman of the University of Freiburg council and president of the Stifterverband for German research.
What: Presentation


When: July 20, 2017, 8:15pm


Where:
Collegiate building I
Lecture hall 1199
Platz der Universität 3
79098 Freiburg


The event is open to the general public.


Host: Rektorat


Contact information: Dr. Verena Kremling, + 49 (0) 761/203-8521


No pre-registration is required.


The lecture will be held in German.


The event is free of admission.