Museum Studies for working people
"museOn – weiterbildung & netzwerk" presents its full spectrum of 40 courses.
Freiburg, Dec 01, 2017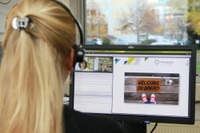 Photo: Britta Bieberbach/museOn
Get an overview, collect, exhibit, teach, market, manage and digitalize - in summer semester 2018 "museOn – weiterbildung & netzwerk" offers for the first time all its 40 courses developed and tested in the pilot phase. The academically-designed courses are intended for people working in museums, exhibitions and collections who would like to further professionalize their work and expand their skill sets - as well as for those who would like to respond to changing circumstances and social conditions such as cultural diversity or the structural effects of digitization to develop their work to current expectations. Registration begins on 1 December 2017 and closes on 31 January 2018.
"The special thing about museOn is our blended learning format on the one hand and our big cooperative network on the other, says Dr. Christian Wacker, the academic project manager. Blended learning is a combination of e-learning and attended classes. E-learning is done in small course groups with individual and cooperative learning activities via the University of Freiburg's ILIAS portal. In addition there are up to three classes per semester at the university or at museum co-operative partner institutions, such as the Städtische Museen Freiburg. In recent years the museOn team has worked with more than 40 experts with theoretical and practical museum experience as well as with University of Freiburg professors to develop 40 different courses, which were taken and evaluated last year by nearly 100 test persons.
The modular system makes it possible to study in accordance with one's particular interests as well as obtaining various certificates. The participants can take individual courses or combine them to receive a certificate of Museum Studies. For this Certificate of Advanced Studies (CAS), they may for instance additionally develop a final project in which they apply their new skills and knowledge to their own work. The course participants come from across Germany, as well as from Austria and Switzerland. Along with the high level of practical experience, the exchange via new networks is particularly appreciated.

Testimonial
"museOn has a high degree of practical orientation, as both the modules and the CAS final project focus on independent planning and execution of the respective concrete projects in museums. In this way I was able to structure our review the collection of paintings at the Museum für Hamburgische Geschichte's central depot and begin with the practical execution."
Britta S. Wiesenthal, Stiftung Historische Museen Hamburg, Museum für Hamburgische Geschichte
Information on courses, certificates, admission requirements, and fees:
www.museon.uni-freiburg.de/studienangebot