From the tropics to the Alps
Discover the botanical garden's plant diversity with a Saturday tour
Freiburg, May 11, 2017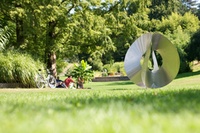 Photo: Peter Mesenholl
How does an Alpine garden look? Which native herbs are used for medicinal purposes? And how come tropical plants can survive Freiburg temperatures? Visitors can find answers to these questions and more during the Saturday tours at the botanical garden at the University of Freiburg. Dr. Friederike Gallenmüller will do the first visitors tour on May 13, 2017 at 2pm in the tropical house. Prof. Dr. Ulrich Deil will showcase Alpine flora on June 3, 2017. On July 8, 2017 Dr. Henriette Gruber will do a talk on "Witches, Ghosts and Genetics – Medicinal Plants and Science." Master gardener Dirk Rohleder will round out the tours on September 23, 2017 with an autumnal walk.
The guided tours begin each time on a Saturday at 2pm. Participation costs 3€, the proceeds from which go to the botanical garden. Children and youth under 16 years old can participate for free. No registration is required. Meet at the main entrance of the botanical garden, Schänzlestraße 1, 79104 Freiburg.
In addition, Botanical Gardens Week is taking place June 10-18, 2017. The campaign's motto is "Association of Botanical Gardens – 25 years together for diversity". A more detailed program is yet to be announced.
Further information:
https://www.botanischer-garten.uni-freiburg.de/veranstaltungen
Contact:
Prof. Dr. Hanns-Heinz Kassemeyer
State Viticulture Institute Freiburg
Department of Biology
University of Freiburg
Tel.: 0761/203- 40165 983
E-Mail: Hanns-Heinz.kassemeyer@wbi.bwl.de