Freiburg among the top universities
The Shanghai Ranking 2017 demonstrates the University of Freiburg's strong position in Germany
Freiburg, Aug 17, 2017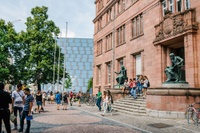 Foto: Sandra Meyndt
The Academic Ranking of World Universities, also known as the Shanghai Ranking, published its ranking list for 2017: The University of Freiburg has maintained its position and ranks fourth to seventh among German full-range universities. At the state level, the University has maintained its top spot and, after Heidelberg, is the highest ranking university in Baden Württemberg. Among the 500 evaluated universities worldwide, Freiburg ranks between 101 and 150. The Shanghai Ranking does not allow for a further breakdown.
In the specialties of "Human Biology" and "Instruments Science & Technology", Freiburg is among the top 100 universities in the world. In the areas "Agrarian Scences" and "Dentistry", it is one of the top 75 institutions. In "Medical Technology", the Shanghai Index views the University of Freiburg as 49th in the world. "Our position reflects the international visibility and significance of our researchers who have made Freiburg a highly attractive place for future-oriented research the world over," says Rector Prof. Dr. Hans-Jochen Schiewer. "Such a distinguished ranking serves as both praise and motivation for us."
The Chinese Shanghai Jiao Tong University has compared various universities' success in the area of research since 2003 with its international Academic Ranking of World Universities. It assesses research publications in distinguished scientific journals, the number of quotes from researchers as well as high-ranking awards such as the Nobel Prize. By doing so, it is possible to evaluate academic performance in particular in the natural sciences according to transparent criteria.
Academic Ranking of World Universities 2017
www.shanghairanking.com/ARWU2017.html


Contact:
Dr. Johannes Keller-Herder
Strategy and Development
University of Freiburg
Tel.: 0761/203-67843
E-Mail: johannes.keller-herder@zv.uni-freiburg.de