New Department of Sustainable Systems Engineering
The University of Freiburg and the Fraunhofer-Gesellschaft create a unique teaching and research structure
Freiburg, Oct 21, 2015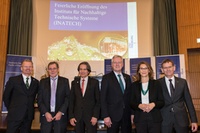 Photo: Patrick Seeger
The Faculty of Engineering of the University of Freiburg has added another innovative pillar to its range of research and teaching offerings: The "Department of Sustainable Systems Engineering" (INATECH) will address the topic of engineering sustainability research. "This strategic addition unleashes enormous potential for teaching, research, and technology transfer," says Rector Prof. Dr. Hans-Jochen Schiewer. "As a university offering a full range of disciplines, we have already built up an outstanding profile in sustainability research. With INATECH, we now have a unique selling point that promises to pave the way for many pioneering research approaches and innovations and clearly enhance the international attractiveness of our university."

"The foundation of INATECH is a crucial step toward establishing the University of Freiburg as an internationally respected institution for cutting-edge research, teaching, and continuing education on sustainable development that pools the expertise of scientists, innovative entrepreneurs, and renowned companies," says Dr. Simone Schwanitz, Director of the Ministry of Science, Research, and the Arts of Baden-Württemberg.

The scientists at INATECH will focus on three topics: They will conduct research on sustainable materials that save energy and resources in production and use, develop systems that enable a reliable supply of renewable energy and solutions for its storage and efficient use, and ensure that systems are resilient to short- and long-term changes like natural disasters or climate change. The concept for INATECH, which will initially include 14 professorships – seven each from the university and the Fraunhofer-Gesellschaft – was developed jointly by scientists at the university and Freiburg's five Fraunhofer Institutes. It is also the engineering core of the "Performance Center for Sustainability" founded by the University of Freiburg and the Fraunhofer Institutes in March 2015.

INATECH will also lend fresh impetus to teaching at the university: The master's program "Sustainable Systems Engineering" will be launched in winter semester 2016/17, and a bachelor's program is set to follow one year later. "The students will take on socially relevant topics and attempt to implement technological innovations. What we are creating here will have an impact on the next generation. I'm certain we'll be able to inspire and attract young talents," says Prof. Dr. Stefan Hiermaier, founding director of INATECH and holder of the Gips School Chair in Sustainable Engineering Systems. The Gips School Foundation is providing a total of 500,000 euros in funding in the next five years for the chair, which was established on 1 October 2015. Founded in 1965, the foundation has the mission of promoting science and research. Its main focus is on the research and development of environmentally compatible building materials and methods as well as environmentally friendly technologies.

The Faculty of Engineering was founded in 1995 and consisted initially of the Department of Computer Science (IIF) and the Department of Microsystems Engineering (IMTEK). "In the twenty years of its existence we have succeeded in building up an engineering focus that is held in high esteem worldwide," says Dean Prof. Dr. Georg Lausen. "We want to continue onward along this path and at the same time expand on our cooperation with other disciplines. INATECH enriches our profile with regard to both of these goals: It extends our expertise in the area of sustainability and enables us to illuminate the topic from many different perspectives with colleagues from other faculties in order to find sustainable solutions to engineering problems." The department does not yet have its own home: The researchers will initially be distributed among several buildings. However, the goal is to construct a new building on the campus of the Faculty of Engineering in the coming years.

Further information:
www.tf.uni-freiburg.de/inatech
www.leistungszentrum-nachhaltigkeit.de

Feature in the university newspaper uni'leben:
www.pr2.uni-freiburg.de/publikationen/unileben/unileben-2015-4/page1.html#/2


Contact:
Prof. Dr. Stefan Hiermaier
Department of Sustainable Systems Engineering (INATECH)
University of Freiburg
Phone: +49 (0)761/2714101
E-Mail: Stefan.Hiermaier@emi.fraunhofer.de

Natascha Thoma-Widmann
Coordinator for PR/Marketing
Faculty of Engineering
University of Freiburg
Phone: +49 (0)761/203-8056
E-Mail: thoma-widmann@tf.uni-freiburg.de


Printable version (pdf) of the press release.