Photo Competition "Prima Klima"
Searching for the best image in Freiburg as a climate-friendly city and region
Freiburg, Mar 19, 2018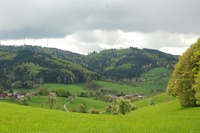 Wildtal. Photo: private
Also known as the "Green City," Freiburg has been involved in sustainable development for years. Along with policy-making and administration, it is above all else the people in and around Freiburg who are particularly committed to environmental and climate protection. The Freiburg Institute for Advanced Studies (FRIAS), the Chair of Forest and Environmental Policy at the Faculty of Environment and Natural Resources and the Department of Political Science in the Faculty of Philosophy from the University of Freiburg invite both amateur photographers and professional photographers to make a visual statement about the climate-friendly development of the city and region.
Whether it's the dynamic interplay of nature and the big city, the special environmental awareness that the people of Freiburg have, the sustainable shaping of the cityscape or the diverse work of green initiatives: all motives with a clear relation to climate and environmental protection are welcome. The photographer's point of view should be accompanied by a corresponding title and a short text of two or three sentences.
During the conference "Polycentric Climate Governance after Paris: Expectations, Challenges and Pathways", which will take place from April 12-14, 2018 at the FRIAS, the photos should illustrate to the conference participants from Germany and abroad why Freiburg is outstanding in climate protection and what other cities can learn from Freiburg's sustainability model.
The top three photos will be awarded cash prizes and will be honored at the conference's kick-off event on April 12, 2018. The Sustainability Center Freiburg will honor first place with 300 euros, second place with 150 euros and third place with 50 euros. The top ten photos will be displayed in the shopping center "Schwarzwald City" and will also be published on the homepage of the event and on social media.
Participants must be at least 18 years old. Deadline is April 2, 2018. The photo including a caption, short description, name, age and contact details must be sent to the following e-mail address: climate.gov.workshop@mail.uni-freiburg.de.

Specific information about technical specifications and rights of use can be found at:
http://portal.uni-freiburg.de/politik/professuren/internationale-politik/fotowettbewerb-prima-klima-in-freiburg