Neuroscience, Stage Productions and Revolts
The Studium Generale program for the 2018 summer semester is launching new courses
Freiburg, Apr 09, 2018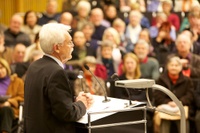 Photo: Baschi Bender
Once again, Studium Generale at the University of Freiburg is offering a range of courses, lectures, concerts and readings in the summer semester, giving students, teachers and locals the opportunity to gain an interdisciplinary understanding of various fields of knowledge. Under the new head of Studium Generale, the literature scholar Prof. Dr. Werner Frick, two courses will celebrate their debut: "Bücher, über die man spricht" (Books people talk about) and "Gespräche über aktuelle Inszenierungen" (Discussing contemporary staging).
From 18th April 2018 in the lecture room at the University Library, "Bücher, über die man spricht" will introduce acclaimed new academic publications or essays on a wide range of subjects, offering a chance for people to discuss these works in the presence of the author. From 9th May 2018, "Gespräche über aktuelle Inszenierungen" also invites people to a discussion, looking at the staging of new productions by the musical and dramatic groups at Theater Freiburg.
The Saturday Uni is taking place for the 25th time this year: 400 years after the Defenestrations of Prague on 23rd May 1618, it will be holding eleven lectures on the theme of "Der Dreißigjährige Krieg: Interdisziplinäre Perspektiven" (The Thirty Years' War: Interdisciplinary Perspectives). The 50th anniversary of the social unrest of 1968 also occurs in 2018. A series of different events with the overarching title "1968 – Lesarten einer Revolte" (1968 – ways of reading a revolt), will consider the historic happenings and their significance today. These include the panel debate "1968 – die Erfindung der Gegenwart" (1968 – the invention of the present day) on 4th June 2018, a film and discussion evening on the 1968 riots in Freiburg, on 8th June 2018, and special tours of the Uniseum on the theme "Milde, wilde Jahre – 1968 und die Freiburger Universität" (The mild, wild years – 1968 and Freiburg university).
With individual lectures, panel debates, public debates, thematic lecture series and guided tours, the Colloquium Politicum offers an opportunity to learn about and discuss fundamental questions of German and international politics as well as contemporary economic and social problems. In the summer semester the colloquium will give an eleven-part lecture series on Karl Marx. It opens with a panel debate on 25th April: "Karl Marx – ein 'toter Hund'?" – or "Is Karl Marx a dead duck?".
The focus of another lecture series, conceived together with the Catholic Academy of Freiburg, is on sociological, sociocultural and social science aspects, with the aim of enabling the contours of future society to be defined and discussed. From 23rd April 2018 the four-lecture cycle "Neurowissenschaftliche Forschung – Wo stehen wir?" (Neuroscience research – where are we?) tackles examples of fields and developments in the current debate on neuromedicines.
Program of the Studium Generale

Interview with Werner Frick in uni'leben, the online magazine of the University of Freiburg