Helping to Transport Proteins Inside the Cell
Researchers from the University of Freiburg have discovered how proteins are transported to the cell's power stations
Freiburg, Nov 21, 2018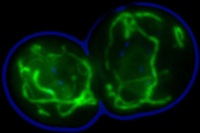 This microscopic image shows mitochondria in a yeast cell that are marked with fluorescent dye. Image: Łukasz Opaliński, Becker research lab
The research labs of the associate professor (Privatdozent) Dr. Thomas Becker and Prof. Dr. Nikolaus Pfanner teamed up with several other researchers at the University of Freiburg to discover a mechanism inside cells that transports proteins to the mitochondria. Their research has now been published in the science journal Cell Reports.
Mitochondria are not only responsible for many vital processes within a cell; they also produce energy for the cell's metabolism, which is why they are referred to as the cell's power stations. When defects occur in their biogenesis and function, this can cause serious diseases in the central nervous system or the heart. In order to function properly, mitochondria are dependent on roughly 1,000 different kinds of proteins, which are imported from the cytosol, the fluid inside the cell. The ribosomes inside this fluid are the cell's protein factories that also produce precursor forms of proteins for the mitochondria. These precursor proteins are then escorted by molecular chaperones from the ribosomes to the mitochondria. Chaperone proteins promote folding of other proteins into their three-dimensional structures. Since the cellular content of chaperones is increased upon heat stress these proteins also termed heat shock proteins (Hsps). The Hsp70 chaperone is especially important for chaperoning precursor proteins into mitochondria.
The translocases of the outer mitochondrial membrane (TOM complex) forms the entry gate for almost all mitochondrial precursor proteins. Specific receptor proteins like Tom22 and Tom70 recognize the incoming precursor proteins. How the precursors are transferred from the cytosolic chaperones to specific TOM receptors remained largely unknown.  
Researchers from the collaborative research center "Functional Specificity by Coupling and Modification of Proteins", the research training group "Transport Across and Into Membranes", and the cluster of excellence BIOSS Centre for Biological Signalling Studies at the University of Freiburg teamed up to study the role of J-proteins, which are helpers of the Hsp70 chaperones, in the transport of proteins to the mitochondria. The postdoc Łukasz Opaliński from Thomas Becker's research group demonstrated that the J-protein Xdj1 is involved in the transport of mitochondrial proteins. In collaboration with the group of Prof. Dr. Bettina Warscheid, he determined that Xdj1 binds to the Tom22 receptor. Thereby, Xdj1 promotes the transfer of precursory proteins from the cytosolic chaperones to the TOM complex to initiate their import into the mitochondria. The researchers also discovered that a second J-protein called Djp1 binds to the Tom70 receptor of the TOM complex, indicating that two different J-proteins associate with two distinct TOM receptors to deliver precursor proteins to the TOM complex.
The results of this study showed that two J-proteins are critical for the selective targeting of mitochondrial precursor proteins to distinct receptor proteins of powerhouse of cell.
Original Publication:
Opaliński, Ł., Song, J., Priesnitz, C., Wenz, L.S., Oeljeklaus, S., Warscheid, B., Pfanner, N. and Becker, T. (2018) Recruitment of cytosolic J-proteins by TOM receptors promotes mitochondrial protein biogenesis. Cell Report, in press.