Gaining trainees
University of Freiburg signs cooperation deals with two further Freiburg schools
Freiburg, May 02, 2018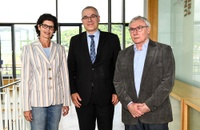 Petra Wenner, joint head of the Weiherhof-Realschule, Matthias Schenek, Executive Vice-President of the University, and Hansjörg Nievergelt, head of the Karlschule (from left). Photo: Patrick Seeger
The Karlschule – which teaches primary and secondary classes up to year 10 – and the Weiherhof junior high school as new partners: The University of Freiburg has made a cooperation agreement with two further schools in Freiburg; the deal is similar to the one in has with the St. Ursula grammar school. The goal is to support their graduates during the transition from school into a profession and to recruit them to training at the university. "Choosing a career is a decision for young people which makes every difference to their lives," says Dr. Matthias Schenek, Executive Vice-President of the University of Freiburg Freiburg. "We are glad to have the opportunity to support students from our partner schools in this, and at the same time to introduce them to our training careers."
The university and the two new cooperation schools have agreed on several ways to introduce young people to career choices. Suitable applicants from the cooperation schools will be the first to be offered places for their orientation internships. The university will present the careers for which it offers training to all year 8 pupils once a year. Selected classes may visit one of the university's training institutions, and the university also presents itself as an employer at all in-school events on the subject of job training. The Karlschule and Weiherhof-Realschule are two new partners located close to university institutes – that is, where most of the around 80 trainees work: in the Science workshops and laboratories, in the central administration in the Rectorate, and at the Botanical Gardens. The University Library also offers traineeships.
The schools also see the new cooperation as a win-win situation. "When we say goodbye to our around 70 graduates at the end of the school year, it is important to us to know, if we can, where they will be going," says Hansjörg Nievergelt, head of the Karlschule. "Experience shows that a lot of traineeships happen because people know one another. So attractive internships are very important to our pupils." Petra Wenner, joint head of the Weiherhof-Realschule, agrees: "Starting in year 8, our pupils start looking around for a profession, and practical experience with a respected employer like the university is very interesting for them. Our neighbors' relationship now becomes a partners' relationship - I think it's fantastic."
With 6,800 employees, the University of Freiburg is one of the region's biggest employers and trainers. Unlike industry, the university is not producing for sales; rather, its trainees benefit from seeing research up close. "The university aims to give its trainees the best possible qualifications - in the respective profession and beyond," says Schenek. To ensure that, there is an annual 'Trainee action day,' on which trainees can get extra qualifications to complement their work. On excursions they become familiar with other employers in the region. And some trainees also help out with work and advice supporting the youth and trainees' representatives at the university.
University of Freiburg careers training                                       
The following careers are available:
Chemistry laboratory assistant
Electronic technician
Technician for instruments and systems
Clerical staff for office management
IT technician for applications development and/or systems integration
Gardener
Specialist in media and information services
Senior library positions – Academic librarian


www.uni-freiburg.de/verwaltung/ausbildungsboerse
Interview in the University of Freiburg online magazine: Leonie Breh, chairwoman of the youth and trainees' representatives
Contact:
Dr. Matthias Schenek
Executive Vice-President
University of Freiburg
Phone: 0761/203-4321
kanzler@uni-freiburg.de