A new Website for Eucor – The European Campus
Trinational University Alliance modernizes its Web presence.
Freiburg, Sep 18, 2018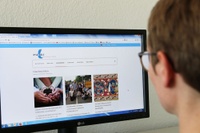 Photo: Max Orlich
The Website for Eucor – The European Campus has been relaunched with a new look just in time for the 2018/2019 winter semester. Various target groups can now get more detailed and targeted information about the alliance and its offerings in research and teaching.
The website presents the joint degree programs, cross-border research projects and networks as well as mobility between the member universities. In addition, it brings together interesting facts about binational doctorates, the financing instrument "Seed Money" and the "Eucor Label". Interested readers will find testimonials, tips and links, including information about launching a career, a look at the history and organization of the network as well as the opportunity to subscribe to the newsletter of Eucor - The European Campus.
The website is now also conveniently accessible from mobile devices, and the move to a modern technical platform guarantees fast loading times. The website is available in German and French; an English version will soon follow.
Background information about Eucor – The European Campus
The European Grouping of Territorial Cooperation (EGTC) Eucor – The European Campus developed out of a long-standing cooperation between the universities of the Upper Rhine region. In December 2015 the five member universities – the University of Basel, the University of Freiburg, the Université de Haute-Alsace, the Karlsruhe Institute of Technology (KIT) and the Université de Strasbourg – signed the founding document to create an independent legal entity for cross-border research and teaching. In total, the EGTC combines the competencies and potential of 15,000 researchers and 11,000 doctoral and PhD students as well as more than 120,000 students. Together, the Eucor – The European Campus university grouping is working to build a distinctive academic and research area – one without walls and borders and with an international appeal.
The relaunch was funded by the European Regional Development Fund (ERDF) as part of the Interreg project "Eucor - The European Campus: Cross-border Structures".


"Transcending borders with every project."