Volkswagen Foundation Supports University of Freiburg Chemist
Anna Fischer is researching the dynamics of nanomaterials for electrochemical energy systems
Freiburg, May 25, 2020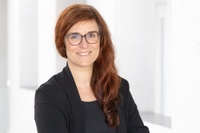 Anna Fischer. Photo: Michal Rössler
The Volkswagen Foundation is backing Prof. Dr. Anna Fischer of the University of Freiburg's Institute of Inorganic and Analytical Chemistry under the auspices of its "Momentum" funding program for recently tenured professors. Fischer has received a five-year, 950 thousand euro grant for her study of electrocatalysts and electrodes. The financial support will allow the chemist to set up a new method of research known as electrochemical scanning transmission electron microscopy (EChem-(S)TEM) at the University of Freiburg. Fischer and her team will then be able to employ the technique to carry out electrochemical experiments in an electron microscope and observe how nanomaterials such as electrocatalysts for fuel cells change under varying electrochemical conditions. Fischer is going to apply the process to improve understanding of materials that can electrochemically convert or store energy. The Volkswagen Foundation's program "Momentum – Funding for Recently Tenured Professors" supports professors who want to strategically develop further their research focus in the first three to five years after obtaining tenure.
Since 2014, Fischer has been developing nanosized electrocatalysts and electrodes for electrochemical energy systems in Freiburg. Among their other applications, these materials are used in fuel cells and electrolytic as well as photoelectrolytic cells, where they transform and store energy. Photoelectrolytic cells use the sun's radiation to generate hydrogen from water, for example. Fuel cells can in turn convert hydrogen into electricity. When both systems work together, large amounts of energy can be chemically stored and used. That is why these systems are considered a key component of the shift away from conventional fossil-fuel based energy sources.
The dynamic behavior of these materials and electrodes during electrochemical operation depends on their composition, structure, surface termination and particle size. In order to investigate and understand nanosized electrochemical materials with the desired properties, Fischer is using what is known as transmission electron microscopy. Up to now, Fischer and her team have used transmission electron microscopy to study at nanometer scale the structure and two-dimensional and three-dimensional morphology of the materials her working group has developed. Fischer is applying the Volkswagen Foundation grant to set up an electrochemical type of transmission electron microscopy at the University of Freiburg. This method will enable her team to perform electrochemical experiments on the developed materials in a transmission electron microscope in electrochemical microcells that are transparent to the electron beam. Hence, this technique allows scientists to observe how nanomaterials behave under electrochemical conditions in terms of morphology, structure and composition under simulated operating conditions. This knowledge enhances understanding of aging processes of materials that make up electrochemical energy systems. Using that information, Fischer will develop more resilient alternatives that will ensure longevity of these systems.
The new insights gained by the researcher will be incorporated into her work at the Freiburg Materials Research Center (FMF) and in particular at the Freiburg Center for Interactive Materials and Bioinspired Technologies (FIT), where Fischer leads the "Imaging of Materials Systems" core facility. What is more, Fischer's findings will enhance research on energy-autonomous materials systems within the University of Freiburg's cluster of excellence Living, Adaptive and Energy-autonomous Materials Systems (livMatS), where she is one of the three cluster's spokespersons.