University Medal for Rudolf-Werner Dreier
High-profile award for special services in developing a worldwide alumni network
Freiburg, Dec 20, 2018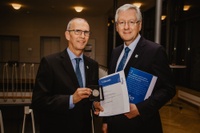 Rudolf-Werner Dreier and rector Hans-Jochen Schiewer (from left to right). Photo: Sandra Meyndt
The University of Freiburg has awarded the University Medal to Rudolf-Werner Dreier. With this award, the University of Freiburg honors his special contribution to the establishment of a worldwide alumni network. "When Rudolf-Werner Dreier founded Alumni Freiburg in 1996, the University of Freiburg was the first university in Germany to maintain contact with its former students," says Rector Prof. Dr. Hans-Jochen Schiewer. "With his initiative and commitment, he has done pioneering work nationwide and made possible a great success story with international resonance for our university, which we will continue to write in the future."
Just two years after its founding, the alumni organization had 1,200 members. Today, a good 20 years later, the University of Freiburg is in contact with about 150,000 of its alumnae and alumni worldwide thanks to this organization. Eight national and 13 international clubs regularly invite Freiburg alumni to scientific and cultural events, and an international alumni meeting takes place every two years at the University of Freiburg. At this year's meeting alone, more than 1,000 alumni visited their alma mater in order to rediscover their former place of study and revive their memories at the events organized around the University and the city of Freiburg.
The Alumni Freiburg e.V., which was also founded through Dreier's initiative of Dreiers in 1998, aims to improve study conditions by promoting research and teaching at the University of Freiburg. Among other things, it supports student projects and initiatives, awards the Alumni Prize for Social Involvement, is the largest provider of German scholarships at the University of Freiburg and promotes excursions for students, conferences for young researchers and the awarding of alumni prizes in the faculties. The more than 1,500 members are mainly former students and former employees - but there are also some still active University members, such as future alumni.
Rudolf-Werner Dreier will retire on 1 March 2019. However, as honorary managing director of the Alumni Freiburg e.V. association, he will continue to be closely associated with his university and its national and international alumni clubs.


For more information