Teacher's Language, Blog, Children's Book
University Teaching Award for Anna Rosen and Tim Krieger, Special Award for Student Involvement for Alexandra Haag
Freiburg, Jul 04, 2017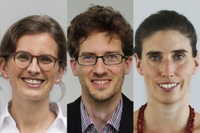 From Left to Right: Anna Rosen, Tim Krieger, Alexandra Haag. Photos: Patrick Seeger, Thomas Kunz, Sandra Meyndt
The University of Freiburg has announced the recipients of this year's University Teaching Award for outstanding teaching achievements They include Dr. Anna Rosen, research associate at the Department of English, and Prof. Dr. Tim Krieger, holder of the Wilfried Guth Endowed Chair in Regulation and Competition Policy. The recipients will each receive 5,000 euros. Medical student Alexandra Haag has been selected to receive the Special Award for Student Involvement, which is worth 500 euros. The awards will be presented in October 2017 at the opening of the 2017/2018 academic year.
Anna Rosen: Explorative Learning to Acquire Key Skills in the Foreign Language Teaching Profession
Anna Rosen's teaching concept "Applying Linguistics in the Foreign Language Classroom" helps build the bridge between academic education and practical relevance that is often required in university teacher education programs. It enables future English instructors to work with authentic student language in their own research projects. The students analyze partial audio recordings of classroom instruction as well as interviews with school students along with written texts such as term papers or homework assignments. Using the linguistic data they gathered themselves at four different Freiburg schools, they learn to identify and explain the various strengths and weaknesses of the English students in areas like grammar, pronunciation, or vocabulary. This gives them a basis for developing strategies and methods to improve their assessment of the students' language and provide them constructive feedback. The teacher education students can thereby understand the complex processes of learning a foreign language and train their analytical and diagnostic skills. In this way they will be able to include in their arsenal a well-considered and scientifically sound analysis of their students' language abilities for their future profession. Anna Rosen's project is also being considered for Baden-Württemberg's State Teaching Prize.
Tim Krieger: Blogging about current economic and political issues
The economist Tim Krieger will receive the University Teaching Award for his many years of instruction in macroeconomics and in particular for his educational concept "Economics Blog." In his seminar, Krieger conveys multiple current economic policy issues in his classroom instruction in a practical form that will be relevant for his students' later professional lives: The participants are required to become authors and editors for the unique nationwide student blog "Think Ordo! – Rethinking regulatory policy." On the basis of the economic knowledge acquired during their studies, inspired by classic regulatory policy, and well within the tradition of the "Freiburg School," they write and discuss blog posts which, unlike traditional seminar papers, are meant to be poignant, opinionated, and understandable for the general public. Well over 100 such blog posts have been published since the blog was started in 2013.
Alexandra Haag: Paula und die Zauberschuhe (Paula and the Magic Shoe) – a children's book about a preschooler with early childhood brain damage
In Germany 50,000 children currently live with spasticity as a result of early childhood brain damage. The UN Disability Rights Convention has been integrated into German law step by step since April 2009, giving all children the right to attend a regular school. This has led to a greater need for raising awareness among children and adults. Alexandra Haag has contributed to this effort with her children's book Paula and the Magic Shoe. The book offers insight into the life of a disabled child. Paula talks about her family and friends at preschool. She describes her spasticity and grapples with the medical therapies as well as her feelings. Through the creative explanatory model and the colorful images as well as the accompanying educational material, the book inspires conversation and thereby provides an important contribution to the issue of inclusion. It will be released in the third quarter of 2017. This project is a part of Haag's interdisciplinary clinical elective work at the hereditary movement disorder ward of the Center for Pediatrics at the Freiburg University Medical Center that was also implemented together with children and parents from the aid association "Neurokinder" at the University of Freiburg.


Contact:
Dr. Anna Rosen
Department of English
University of Freiburg
Tel.: +49 (0)761/203-3321
E-Mail: anna.rosen@anglistik.uni-freiburg.de

Prof. Dr. Tim Krieger
Institute of Economics
University of Freiburg
Tel.: +49 (0)761/203-67651
E-Mail: tim.krieger@vwl.uni-freiburg.de

Alexandra Haag
Aid Association Neurokinder
Hereditary Movement Disorder Ward at the Center for Pediatrics
Medical Center – University of Freiburg
paula@neurokinder-freiburg.de