E-Learning Sponsorship Award 2020
University of Freiburg honors Jennifer Andexer and Heiko Winter for outstanding teaching projects
Freiburg, Feb 10, 2020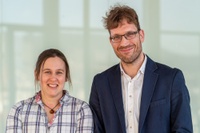 Jennifer Andexer and Heiko Winter. Photo: Patrick Seeger
The University of Freiburg has awarded the E-Learning Sponsorship Award 2020 to Dr. Jennifer Andexer, deputy professor at the Institute of Pharmaceutical Sciences, and to Dr. Heiko Winter from the Chair of Forest Biomaterials. They will each receive 2,500 euros to further develop their teaching projects. For the second consecutive time, the prize will be split in order to award two outstanding projects equally.
Jennifer Andexer received the sponsorship award for her teaching project "Chemistry Basics in Pharmaceutical Studies." In order to meet the growing variety of requirements of first-year students, Andexer, together with the participating internship leaders, developed a flipped classroom concept for her course "Quantitative Analysis", which differs from the common lecture model. In the courses the students develop and consolidate the relevant fundamentals before the lectures on their own with the help of a learning module on the central e-learning platform ILIAS. Furthermore, Andexer supports individual, independent learning through a virtual practical course in which students can practice calculation strategies as well as self-testing and feedback possibilities in ILIAS.
Andexer will use the prize money to expand the accompanying online materials and learning opportunities and to link lectures, seminars, exercises and practical training more closely. Students and lecturers can use the resulting free time to deepen partial aspects and discuss challenging topics together. In addition, all digital learning materials and rooms are available to students and other lecturers throughout the entire course of study, thus making learning more sustainable.
Heiko Winter received the second e-learning award for his teaching project "LignoPort", which he implemented as part of the Master of Science program "Environmental Sciences". Winter's goal was to design the module "Structure and Conversion of Lignocellulose" with a focus on how students learn. Through this new perspective, he enabled students to acquire in-depth knowledge in a sustainable way. On the basis of work tasks embedded in a potential future employment scenario at the fictitious company "LignoBaseConsult", students acquire the necessary skills in a largely self-directed manner. With the help of an e-portfolio, the work results in ILIAS are documented in multimedia form, submitted digitally as an examination paper and evaluated by means of an electronic feedback procedure. This new course concept strengthens not only self-directed learning and skill development but also the ability to express and receive criticism.
With the new financing, Winter will be able to write new English video tutorials on the e-portfolio function on ILIAS and revise his templates, which he has made available on ILIAS to all lecturers at the University of Freiburg.