Contactless current measurement
Microsystem engineer at the University of Freiburg receives the advancement award from the Forum Applied Computer Science and Microsystems Engineering
Freiburg, Feb 01, 2019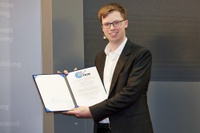 Lukas Klar. Photo: Jörg Wilhelm
Lukas Klar Lukas Klar wins the FAIM (Forum Angewandte Informatik und Mikrosystemtechnik) award for his newly developed measuring method within his master's thesis entitled Development of a contactless current measuring device with integrated position recognition. The prize, which is endowed with 2,500 euros, honors outstanding research and innovation achievements in the field of microsystems engineering and computer science.
In contrast to previous solutions, the current meter that Klar developed does not have to be mounted at a fixed distance from the conductive medium. It is sufficient for the measuring device to be located close to the conductor. The device automatically detects the distance. The microsystems engineer's research work was carried out at TDK-Micronas GmbH and uses a new chip with 21 Hall effect sensors. In combination with advanced methods of embedded nonlinear optimization, it is possible to precisely determine the orientation and distance of the conductor in relation to the sensor, including the current flowing through the conductor. The new measuring method is clearly superior to previous solutions due to its simple handling.
FAIM chairman Jürgen Wiegand and FAIM board member Frank Steinhoff presented the advancement award at the opening of the i+e industrial trade fair at Messe Freiburg. The FAIM is a platform that promotes the exchange between researchers and students in the Faculty of Engineering at the University of Freiburg and within the regional industry.
For more information:
www.faim.tf.uni-freiburg.de