Welcome to the 2022/23 winter semester
The administration at the University of Freiburg wishes all students a successful and enriching semester
Freiburg, Oct 17, 2022
Welcome to the 2022/2023 winter semester at the University of Freiburg: The time at university is a time of new friendships, new places, new experiences. More than 24,000 students are enrolled in the eleven faculties of the University of Freiburg. They are all members of a community of teachers and learners who inspire each other and provide new ways of thinking.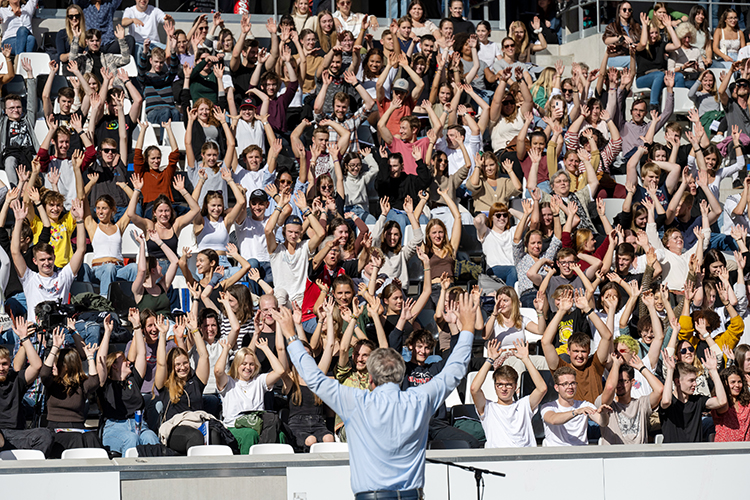 Rector Prof. Dr. Kerstin Krieglstein and Prof. Dr. Michael Schwarze, Vice-President for Academic Affairs, welcomed the newly enrolled students at the Europa-Park Stadium of the Bundesliga team SC Freiburg. This year, the classes of 2020/21 and 2021/22, whose personal welcome had to be cancelled in previous years due to the Corona pandemic, were also invited.
The war in Ukraine, the climate and energy crisis, the Corona pandemic and other challenges in the world are not the best circumstances under which to start one's studies. However, the fact that, in contrast to last winter semester, this semester will be held on-site is cause for celebration.
For first-year students, this means first arriving and getting their bearings. Prof. Dr. Michael Schwarze, Vice-President for Academic Affairs at the University of Freiburg, has a personal tip for new students: "In order to get familiar with the complexities of everyday university life, it helps to do what science also requires: ask questions. Those who ask are curious - and curiosity propels us forward." In many cases, the Student Service Center can answer some of your questions. It supports students with helpful tips on their first steps in university life and advises on scholarships or if they have doubts about their studies. You will find a summary of the most important information for first-year students along with a digital campus tour on its Website. The "Studienstart" app (in German) also offers helpful tools for the start of studies: users can, for example, search for University buildings on interactive maps and be navigated there. The guide to the start of studies contains a checklist for first-semester students and provides initial guidance on topics such as "Studying with a child" or "Studying with a disability or chronic illness. The University and Science Communication team provides constant information about the current measures in connection with the Corona pandemic and for saving energy. The International Office can help with questions about possible ways to study abroad. Students at the University of Freiburg can gain experience abroad not only through the ERASMUS partnerships, but also within the framework of the two European university associations Eucor - The European Campus and EPICUR.
"Student life doesn't just take place in seminar rooms and lecture halls," says Schwarze, "but above all through university sports, the Studium generale, the constituted student body, the student councils and the many student initiatives." Students need not hesitate to get involved because together they all make this University and its community fit for the future.
ad2a02acec70353790bb1e194077174e
Video: Campus locations at the University of Freiburg