Strengthening Team Research
The Freiburg Institute for Advanced Studies sponsors interdisciplinary projects
Freiburg, Feb 08, 2018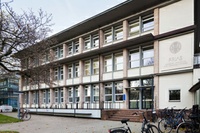 Photo: Ingeborg F. Lehmann
The Freiburg Institute for Advanced Studies (FRIAS) has set up two programs that give researchers from various disciplines the opportunity of working jointly on a project. All academics from the University of Freiburg have until 15 April 2018 to apply.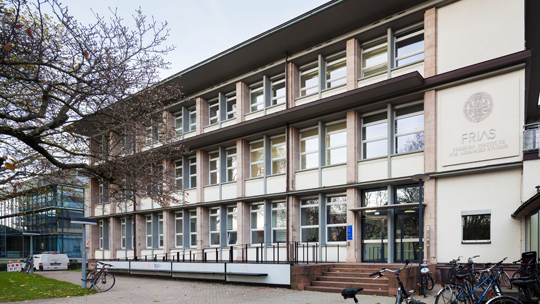 Foto: Ingeborg Lehmann
With the Research Focus program, FRIAS offers scientists from all disciplines at the University the opportunity of working jointly and intensively on a project for one year. In close collaboration, the researchers study a common topic in an international group of eight to twelve people at the same time as pursuing their own research projects. The program can be shaped and used in a variety of ways as the current groups demonstrate.
Connecting Mathematical Disciplines
"In order to work, a mathematician needs peace and time to cogitate," says Prof. Dr. Stefan Kebekus, one of the four heads of the current Cohomology in Algebraic Geometry and Representation Theory research focus. Since October 2017, the group has combined the disciplines of algebraic geometry, numbers theory and representation theory. Its work is based around the concept of cohomology, which enables the study of geometric spaces with the aid of linear, algebraic structures. "The funding offers us the chance of inviting renowned researchers to Freiburg. An exchange of ideas is very important in our field and always delivers fresh momentum for new approaches," explains Kebekus.
Language and the Body
The second research focus this year deals with the relationship between language and physical forms of expression. "We want to understand how physical behavior achieves an effect in combination with language," says Prof. Dr. Claas Lahmann, Medical Director of the Department of Psychosomatic Medicine and Psychotherapy of the Freiburg University Medical Center and one of the four heads of the Synchronization in Embodied Interaction research focus. Consisting of the disciplines of linguistics, cultural anthropology, psychotherapy and body psychotherapy, the group works empirically. The team studies how synchronization occurs by using video recordings of couples in dialogue, amongst other things. The researchers are using the time at FRIAS to develop joint hypotheses, test out initial investigative approaches, and make further applications for funding.
Cooperation at an Early Stage
FRIAS offers funding for up to three project groups in parallel. Smaller than the Research Focus program, this format offers the possibility of supporting a group of researchers at an early stage of cooperation. The team can use the funds, for example, to arrange symposiums and workshops or invite guest academics. FRIAS also offers administrative support.

Sophie Baar
Apply by 15 April 2018

Groups of three to four full-time professors and junior professors of the University of Freiburg are entitled to apply to the Research Focus funding program. The program is open to all disciplines; the total volume of funding is up to €400,000 per group. Closing date for applications is 15 April 2018.

Information on the Research Focus program

The Project Groups program is designed for teams of three to six academics, usually including at least two full-time professors of the University of Freiburg. A group can receive up to €20,000. Closing date for applications is 15 April 2018.

Information on the Project Groups program