Staying fit while aging
Doctors and nutrition and sports' researchers investigate how diet and physical activity influence health
Freiburg, May 02, 2018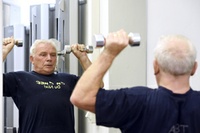 Photo: Thomas Kunz
At first sight, it looks like a state-of-the-art fitness studio -- until you see the screens and measurement devices that give away what's actually going on here. The University of Freiburg's Nutrition Section of the Institute of Sports Science and Physical Education has opened a new laboratory, the Nutrition and Training Lab or NuTraLab for short. An internist and nutritional specialist, Prof. Dr. Daniel König  says, it's not just about "faster, higher, and farther." König is the lab's director. He continues, "What matters to us is the benefits for health." Together with his team, he's researching the influence nutrition has in combination with different types of physical activity.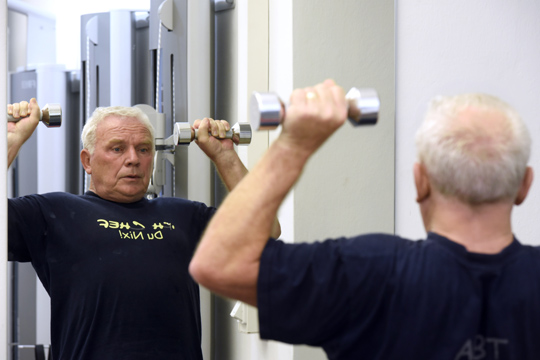 Maintaining muscular strength. Most test subjects in the new lab at the Institute of Sports Science and Physical Education are older than 50. Photo: Thomas Kunz
Controlling interaction individually
The background for this approach is demographic change,  explains König. "People are living longer and longer, but they're not in good health. Many live for years in a situation where they're dependent and reliant on care." The idea that a healthy lifestyle reduces the risk of illnesses such as diabetes, stroke, or cancer, and promotes maintaining muscle function into old age is not new. What König and his team want to know is how to influence the interaction between nutrition and physical activity to achieve optimal results for individuals. The ultimate aim is to retain physical ability and independence as long as possible.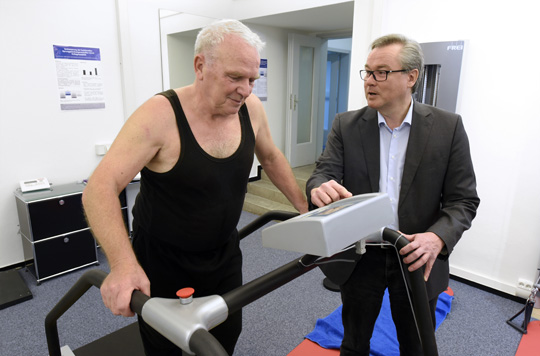 Training tips: Daniel König (right) investigates how to optimize synergies between physical activity and nutrition. Photo: Thomas Kunz
Knowing what's key
Studies are being done in the NuTraLab to help answer these questions. Most of the test subjects are older than 50. Many of them are overweight, meaning they are at greater risk of circulatory disease with simultaneously reduced muscle mass. The study starts with an examination of the participants. They then receive a training and dietary plan which they generally are to follow for three months. They are also divided into groups. Some are given diets rich in fats, others get plenty of carbohydrates; and some do weight lifting, while others do endurance training. A final physical exam shows whether and how their health has changed. "All the test subjects receive their individual results and a general evaluation," says König. "They feel fitter in daily life and know then, what they need to do. Our job is to turn the study results into actual recommendations for the general population."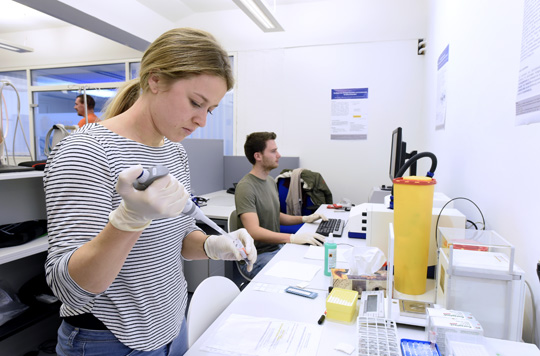 Sports' scientists use measurements to test how training programs and diets affect the health of test subjects. Photo: Thomas Kunz
Working out in a cuff
The doctors and sports and nutrition researchers are also trying to find out which training methods are best-suited to the elderly. Currently there is a study underway in which participants wear an inflated cuff – something like the type used to measure blood pressure – around the muscle that they are working. "It restricts circulation and changes metabolism, so that someone working at only 30 percent of their maximum strength can achieve the same effect as if they were using 70 percent to 80 percent," reports König. "That's excellent for elderly people, because by using the cuff, they can achieve a great deal even with low-intensity training." Food is also a focus. One issue that the team is investigating is the influence nutrition has on what are known as free radicals – reactive compounds that can cause great damage in the human body. "Our studies indicate that certain vitamins and what are known as phytochemicals clearly reduce the stress caused by free radicals. Beyond that, metabolism in overweight people and metabolic syndrome can be improved," adds König. Metabolic syndrome is a combination of different risk factors, including excessive belly fat, high blood pressure, and elevated blood sugar and lipid levels.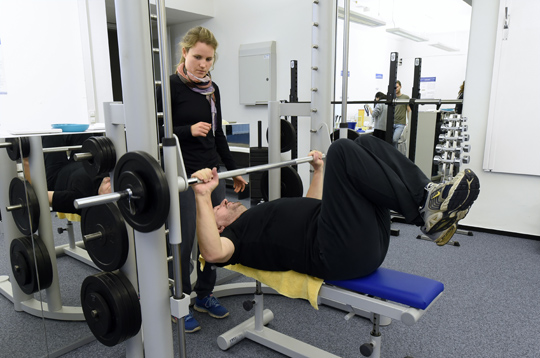 Does everything fit? Members of Daniel König's team supervise test subjects as they work out. Photo: Thomas Kunz
 The gap is opening
The students benefit from NuTraLab, too. "We've got lots of devices for diagnostics, treatment and rehabilitation that students get to know in our lab and can try out," says König. His course offerings are directed in particular at students who would like to work in the healthcare sector later on. König says it is important to make them aware of how much people can do for their own health. "The influence that nutrition and physical activity have is enormous. But unfortunately, we are observing that in people aged 50 and older, the gap between those interested in living a healthy lifestyle and those who aren't, is growing, " he says.
Nicolas Scherger