Small Farmers Draw the Short Straw
International aid organizations are putting a lot of money into Ghana's agriculture – so why is it not reaching those most in need?
Freiburg, Aug 20, 2018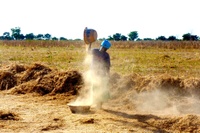 Does development aid really work? That is the question that nags Freiburg geographer Jasmin Marston. In her doctoral thesis she investigated the influence of power and ideas of aid organizations, so-called Development Partners from the USA and Europe, on agriculture in Ghana. She spent sixteen months in the country, conducted 260 semi-structured interviews and worked in the fields in the north of Ghana, to find out. Her results are less than encouraging..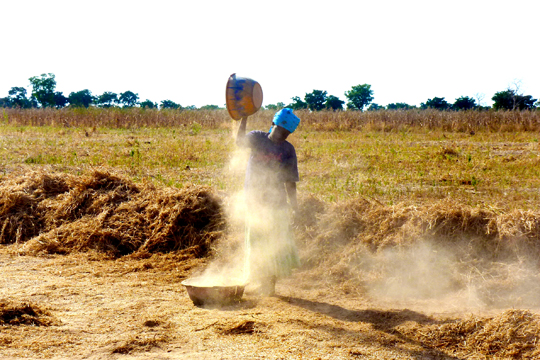 Soy harvest in the Northern Region of Ghana. Photo: Jasmin Marston
Over 50 per cent of the population of Ghana derives their livelihood from agriculture. Yet the Ghanaian government has been investing rather little in the agricultural sector relying heavily on Development Partners (DPs) to fund the sector activities says Jasmin Marston. "On average 60 per cent of the national agriculture budget for livestock and crops in Ghana has been funded by DPs." This structure has had a substantial influence on the agricultural strategies employed in Ghana. "Many of my Ghanaian interviewees summed up the situation with the saying He who pays the piper, calls the tune," explains Marston.
She has been studying Africa for a while now: After completing her business studies, working for a solar company in the USA, and a Masters in International Relationships, she traveled through several countries in South and East Africa. However, the idea for her doctoral thesis came to her in the DR Congo: Marston was working for the Woods Hole Research Centre in Mbandaka, helping to set up a forest and climate protection project (REDD+). "But it didn't seem to make a whole lot of sense. It became increasingly clear to me how important the role of history, the state and the influence of the Development Partners are." So she developed her research project: "Aid and Agriculture - a political economy analysis of sustainable agriculture in Ghana", which turned into a 400 page long thesis that she submitted in autumn 2017 to the University of Freiburg.
"Colonialism 3.0"
Marston chose the West African country of Ghana because the government has been hailed as a beacon of democracy, is stable, peaceful and English speaking. Agriculture has been proclaimed to be the backbone of its economy also, and in 1957 Ghana was the first country in sub-Saharan Africa to gain independence. The geographer is convinced that if one wants to understand what works – and what doesn't – in development cooperation, is to take the historical and cultural background of a country into consideration. In her research Marston found that the inequality and the West-knows-best-mentality, similar to those of the time of colonialism, still exist.
This also influences the cooperation between sponsors and Ghanaian institutions. "It's a problem if a German trainee from the Gesellschaft für Internationale Zusammenarbeit (GIZ) earns more than a director at the Ministry of Food and Agriculture," she says. One of her interview partners referred sarcastically to development cooperation in his country as "Colonialism 3.0". Marston undertook research in Ghana's capital Accra and the rural north of the country for sixteen months. It was important to her interdisciplinary approach to earn the trust of the interviewees as well as familiarize herself with structures and institutions adequately. At the heart of her work are 260 interviews with government officials, mainly from the Ministry of Food and Agriculture, Ghanaian researchers and with staff from development organizations, such as the GIZ, the World Bank or the United States Agency for International Development (USAID). In addition, Marston held focus-group discussions with small-scale farmers – both male and female – and even worked for a medium-sized soya, maize and rice farmer for three months.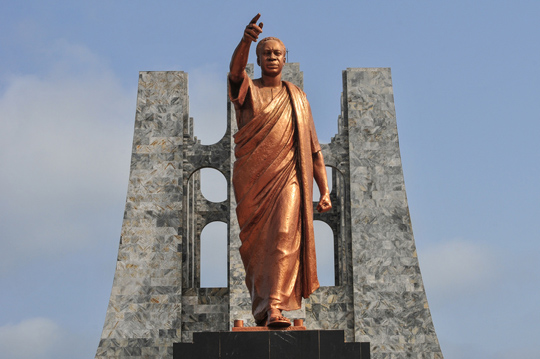 Memorial in Accra: in the late 1950s, President Kwame Nkrumah gained independence for Ghana. Nevertheless, habits of colonialism continue to affect development aid. Photo: demerzel21/Fotolia
Sobering results
Her results are less than encouraging: A lot of international aid monies did flow into Ghana's agricultural sector; Obama's "Feed the Future Initiative" alone, invested 400 million US dollars since 2012. But very little has reached the small-scale farmers and there is little sign of a sustainable change in the sector.
There are many reasons for this. The idea that the agricultural sector has to be driven by the private sector is widespread. Hence, the goal of development cooperation often includes the opening of markets: for seed, machinery, agricultural chemicals etc. Yet, there is hardly any support to the Government of Ghana for needed infrastructure investments, such as irrigation – partly because the sponsors regard state agencies as not very trustworthy. Indeed local voices corroborated that decision, for example who would receive the imported tractors, are at times based on political affiliations rather than merit or need. This has often left small-scale farmers draw the short straw, because they lack formal education, are scattered among rural areas and are too poorly organized to have their voices heard in the capital.
Continue to seek dialogue
In the end, this system of development aid organizations, private companies and Ghanaian government institutions is marked by top-down decision making, says Marston, "The programs are often conceived in the capitals abroad, with very little understanding of the local problems of farmers in rural Ghana." Issues of elitism and imagined superiority of the white-collar experts with their Western solutions continue to persist, making for a rough and uneven playing field during discussions with Ghanaian institutions. These criticisms were discussed by the interviewees themselves in 2016, but have long been debated internationally, for instance in the Paris Declaration on Aid Effectiveness of 2005 and the Accra Agenda for Action of 2008. Still, little has actually changed.
Marston calls for more involvement of the local beneficiaries, creating greater transparency – and funding agricultural researching: In the spring of 2018, the researcher presented her results in Ghana: at the ministries, to development partners and in front of a parliamentary committee. "Although I criticized many of them, the results were widely accepted and received positively," she says. "Everyone actually knows that the king has no clothes – I just expressed it." In the summer she is traveling to Ghana again for further research.
Thomas Goebel