Science for the future
The LoKlim research project is working with municipalities to develop strategies for adapting to climate change
Freiburg, Jun 30, 2020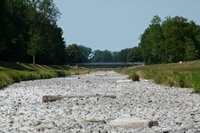 Climate change affects local government across the state of Baden-Württemberg - as evidenced by damage in the millions caused by heavy rain, floods, and drought, as well as the increased number of deaths caused by higher temperatures. Yet most small and medium-sized municipalities do not have the capacity needed to strategically combat the effects of climate change. Now, a team at the Institute of Environmental Social Sciences and Geography at the University of Freiburg has launched a project together with six partners to help them develop the necessary skills.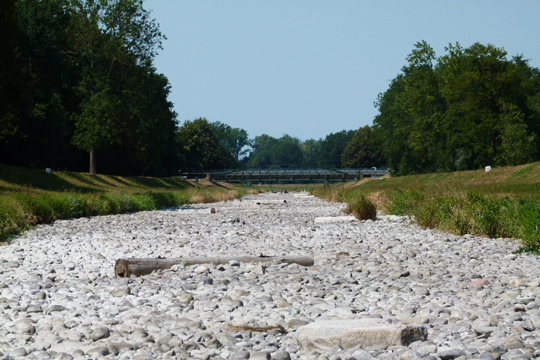 The Dreisam, summer 2018: Drought is just one example of the effects of climate change observed in Baden-Württemberg. Photo: Nils Riach
Professor Hartmut Fünfgeld and Stefanie Lorenz say the problem calls for a trans-disciplinary solution. They are proud of the close integration of their research project, "Local competence development for climate adaptation in small and medium-sized municipalities and districts" (LoKlim) with local authorities. They have consistently implemented the bottom-up principle; their application for funding from the German Strategy for Adaptation to Climate Change (DAS) was preceded by a workshop at which they mapped out the need for action by the invited municipalities and were able to formulate it in concrete terms. This was the basis for the two-stage application procedure for the DAS initiative founded by the Federal Environment Agency in 2008. Another advantage was that Fünfgeld and Lorenz thus already had partners with whom they could start the project.
Weighing evidence and requirements
There are now pilot projects in six locations - the municipalities of Böblingen, Bad Krozingen, Kehl and the districts of Böblingen, Lake Constance and Enz. Over the three years of the project, the scientific findings will be compared with the needs of the municipalities and modified accordingly. There is simply too much at stake for science and local politics to talk at cross purposes.
Fünfgeld, Professor of the Geography of Global Change at the University of Freiburg, conducts research on the effects of climate change and on climate adaptation. For several years he worked in Australia in the area of sustainability and urban planning. Lorenz studied geography too, but also political science. She was a climate protection manager in Lörrach, advises local authorities on climate protection and climate adaptation and is therefore familiar with the administrative structures. "We combine practical research with applications," she says, "Climate adaptation is a completely new area, so it is important to take current findings into account. At the same time, it requires close contact with partners in the field."
Predicting the effects of the effects
Climate adaptation sounds as if it is already too late for climate protection. "As an industrialized nation we are making a major contribution to climate change - so protecting the climate is a top priority. But it is also important to keep an eye on the effects and to think about adaptation, because one leads to the other," says Lorenz. And Fünfgeld makes it clear that after dry summers like 2018 and 2019 or heavy rainfall events as in 2015 and 2016, local authorities have greater opportunities to take political action because the damage is obvious. However, climate adaptation is about looking beyond the primary risks. The secondary risks - the effects of the effects of climate change - such as short supplies and lack of services due to temperature increases and heat stress - must also be considered. Many of them are not yet known.
This is also a challenge for municipalities because climate adaptation - in contrast to climate protection - is a cross-departmental task and affects different parts of the administration. For this reason, an integrative outlook is required - and that in turn is hard for small organisational units, says Fünfgeld. In Bad Krozingen, for example, Fünfgeld and Lorenz will meet with Stephanie von Detten, the person responsible for urban planning and climate protection, and will work with her to identify other actors to be involved in the process.
Pilot locations to pave the way for others
Four workshops are planned with each of the pilot locations. In the first workshop, the the parties will empirically test and further develop scientific approaches and instruments arising from case studies from around the world. This will enable them to find various process models, decision-making processes and planning paths. Such a foresighted adaptation could also reduce costs, Fünfgeld says - for example in the construction of roads, or water and waste disposal infrastructure.
The effects of climate change vary from region to region and depend on the local topography - heat stress will become a problem for the Upper Rhine Valley, while the Black Forest highlands will be increasingly affected by drought. But the goal of LoKlim as a pilot project is to develop adaptation planning approaches for differing municipalities in Baden-Württemberg. For example, an interactive map is to be generated that shows which municipalities are affected by climate change and how. The pilot locations could set an example here. And, says Lorenz: "Baden-Württemberg is not the only state in Germany that is concerned with climate adaptation. We hope to transfer our approach to other German states in the future."
Annette Hoffmann