Curving, not straight
The original course of the Rhine could remedy many environmental problems – can the waterway return to nature?
Freiburg, Dec 07, 2018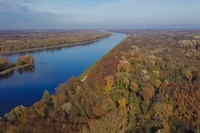 Photo:Ilolab/Fotolia
Today, the Rhine between Karlsruhe and Basel flows largely along an artificially-straightened channel. Yet just two hundred years ago the river snaked down the Rhine valley through many bends and interconnecting streams. However, this natural state had many disadvantages: malaria, restrictions on shipping and flooding. At the same time, besides a loss of diversity in the local flora and fauna, straightening also brought with it an increased risk of flooding in the Middle and Lower Rhine regions. Renaturation might be a solution to at least part of these problems. Together with colleagues from France, Frank Preusser, Professor of Geology at the University of Freiburg, is researching the original course of the Rhine.
6b76aec2309d5eec8da9160a60eb9657