Students lend a helping hand during the pandemic
Medical student organization receives the Alumni Prize for social commitment
Freiburg, Nov 06, 2020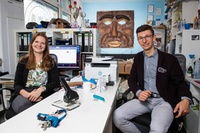 Photo: Klaus Polkowski
1,700 students heeded the call of the group "Corona-Hilfe der Offenen Fachschaft Medizin Freiburg e.V." in spring 2020, declaring their willingness to assist within the health care system during the pandemic. The Freiburg alumni association has now awarded the student initiative its Alumni Prize for social commitment.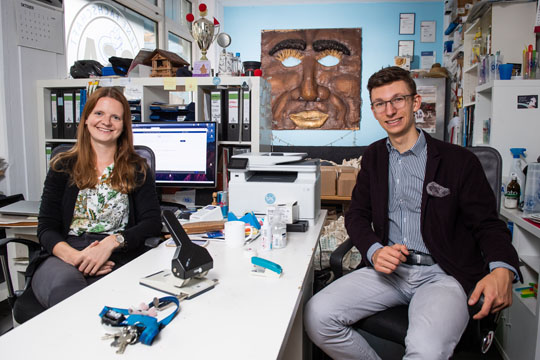 Meret Quante, Tobias Henke and their fellow activists founded the student group "Corona-Hilfe der Offenen Fachschaft Medizin Freiburg e.V." Photo: Klaus Polkowski
In March 2020 Meret Quante had just completed an internship at a hospital in Tunisia when the bad news reached her - of the novel coronavirus, which was spreading rapidly in southern Baden. The health facilities there were preparing for a rush of patients. A collapse of the healthcare system had to be prevented. Quante, a tenth-semester medical student, who wants to work as a pediatrician one day, felt it was her duty to help. So did Tobias Henke, a sixth semester student, who had just passed his first state examination and later wants to specialize in neurology. Both are involved in the Offene Fachschaft Medizin e.V. "Who, if not us as the student representative body, should take responsibility in this situation?" they asked themselves - and started the initiative "Corona-Hilfe" with a handful of fellow students. For this, the Freiburg alumni association has awarded the group the Alumni Prize for Social Commitment. The 2,000-euro prize was awarded for the ninth time.
Spontaneous willingness to help
Tobias Henke is enthusiastic about the "incredibly committed students." He says that, in an exploratory call before starting, 200 willing helpers responded within two hours. No advertising was needed - using their e-mail and other mailing lists they called for help - and 1,700 students were ready to help. And it was not only medical students. Some 700 volunteers came from other subjects - for example, students of computer science who wanted to contribute their programming skills; and students of molecular medicine and biology who were familiar with laboratory methods and test procedures. The medical students also brought with them many different qualifications, degrees and previous experience, for example as nurses, intensive care nurses, or as paramedics.
To deploy them accurately and quickly, Quante, Henke and their organizational team came up with a system based on a detailed questionnaire. It asked not only for contact data, but also for details of subjects studied, internships, degrees and other knowledge and skills. Depending on the possible ways they could help, the students were divided into Whats-app groups to which the requests from the institutions were assigned. When the corona case numbers skyrocketed in the spring, "we were in action from early in the morning until late at night," says Quante. At the same time, the telephones and computers were running hot with inquiries about how studies were to go ahead in the era of Coronavirus. "We had also taken on a filter function between the dean's office and the students. At the same time, the number of health care institutions requesting support was growing. Initially, only the Freiburg Medical Center was involved, but soon other hospitals, nursing homes and health authorities began to request support. Quante herself worked a number of times at the testing point set up at the Freiburg trade fair grounds.
Low hierarchies, high solidarity
None of the helpers wants to be a demigod in white. Along with the practical experience, they have learned to work together in high performance with low hierarchies and have experienced great solidarity. And some of them experienced the dramatic progression of Covid-19 infections while working in an intensive care unit. Even young people without previous illnesses were among the patients. "We take the pandemic very seriously and have also faced ethical questions about what happens when intensive care beds become scarce," Tobias Henke says.
About 400 students have worked in the scheme so far. The radius has also expanded into the wider Freiburg area. Financial support such as travel expenses came from the Carl Zeiss Foundation. "We expected worse," say Quante and Henke, looking back on the situation in the spring and summer; "the crisis was not as bad as initially feared." It is by no means over, as the rapidly increasing number of cases now shows. The Coronavirus support group is prepared, says Meret Quante. "Our structures are in place and can be reactivated at any time."
Anita Rüffer
https://ofamed.de/covid19-pandemie